Small Cap Value Report (11 Jul 2016) - MCB
Good morning!
It's the worst type of Monday morning today - the type when you wake up thinking it's Sunday. Also, my patience has finally snapped with the noise-polluting bus drivers whose day-to-day conversation is held at c.120 dB at the bus stop near my open window here in East Canonbury. I've escalated things from giving them dirty looks combined with mild tutting, to a strongly worded email. That should get things moving.
Markets seem to be regaining their poise somewhat too.
---
Share price: 165p (up 7.8% today)
No. shares: 182.2m
Market cap: £300.6m
Trading update - the turnaround seems to be continuing apace at this maker of household & personal care products;
The Board expects that adjusted operating profit for the full year will be slightly ahead of its previous expectations.

The Group's full year performance has benefited from better than anticipated progress on cost saving initiatives, including the final year impact of the UK business restructuring project.  Purchasing-driven savings, in part a result of the decision to reduce the Group's range of products and customers, have additionally contributed to the result.
Turnover continues to fall, but as the saying goes, "sales are vanity, profit is sanity".
The simplification programme to reduce the number of small customers served by the Group remains on track with full year sales lower by approximately £6m as a result of this action.

Additionally, revenues have continued to be affected by ongoing price pressures in a number of key markets, especially in the UK. Consequently, on a constant currency basis, Group revenues for the year ended 30 June 2016 were 1.9% lower than the prior year. 

Outlook - this is interesting. McBride has a confident comment re Brexit;
There has been no impact to date on the Group's day-to-day operations from the outcome of the EU referendum in the UK and it remains too early to determine the longer-term effects on McBride's activities, of which approximately 70% are in subsidiaries based outside the UK.

"No impact to date" is very reassuring. Note also the geographic spread of activities.
Valuation - seems reasonable (see below), although note that there's a fair bit of debt on the balance sheet.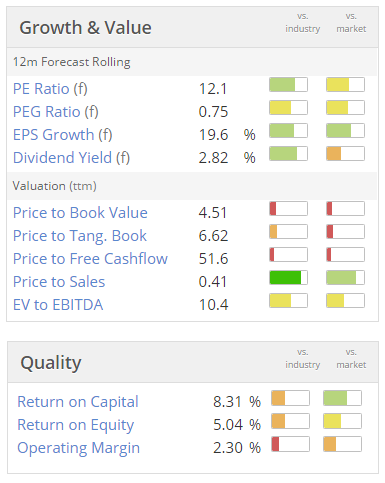 My opinion - I quite like it. There's been a strong turnaround underway here for a while. People I know who have met…

Unlock the rest of this Article in 15 seconds
Already have an account?
Login here