Small Cap Value Report (11 Jun) - VNET, QPP, ECK, REDT, PRES
Good morning! The big one for me today is results for the year ended 31 Mar 2013 from Vianet (LON:VNET) . Regulars will know that this is one of my largest personal holdings, mainly due to the strength of their recurring revenues (about 70% are on long-term contracts), and the strong dividends that this finances.
Vianet warned on profits in Feb 2013, but the results are not too bad, with pre-exceptional EPS dropping out at 9.8p, although that's flattered by a tax credit from utilisation of losses, and R&D.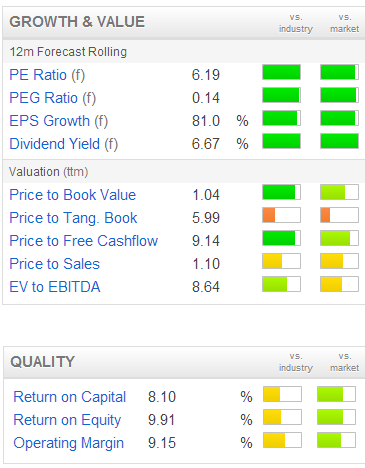 The Chairman has proved good to his word, and has maintained the dividend, which will be 5.7p for the year. With the shares at 90p this gives an excellent dividend yield of 6.3%, which supports the investing case strongly. That seems to be well covered too, as dividends cost £1.5m to pay, but the business continued to generate around £3m in operating cashflow before changes in working capital.
The interminable contract delays from the small vending division have extended out even further, yet again, and I'm now taking the view that anything from this area will be a bonus, and is probably best ignored in valuation terms from now on.
There is a threat to the core beer monitoring business from the Government's proposed Statutory Code for Pub companies. Vianet say that they are challenging these proposals "as forcibly as necessary" to see them off. No doubt the pub cos are doing the same. It seems inconceivable to me that the Government would outlaw the use of beer monitoring equipment, as that lies at the heart of the landlord-tenant relationship in the British tied pub sector.
Expansion in the USA continues, and the fuel monitoring business has greatly reduced its losses. The outlook sounds reasonable, so overall at the current price I think Vianet looks good value, so I'm happy to hold for another year and collect in the big dividends.
Someone asked whether I had a chance to look at the Quindell Portfolio (LON:QPP) Annual Report over the weekend, and the answer is "no", I was too busy doing other things. Quindell is not a priority for me, as I don't like the company at all, have fully…

Unlock the rest of this article with a 14 day trial
Already have an account?
Login here