Small Cap Value Report (12 Dec 2016) - MLIN, CHRT, EAH, PEG

Molins (LON:MLIN)
Share price: 49.5p (-7.5%)
No. shares: 20.2m
Market cap: £10m
Profit warning:
Trading to date in the final quarter has been materially lower than expected, partially due to an unfavourable sales mix and a number of deliveries delayed into the early part of 2017.  As a result the Board is revising downwards its expectation of full year performance
As experienced investors will know, most delays aren't fully recovered in subsequent periods.
Shareholders are given a silver lining:
...order intake in the last three months has been positive, at an increase of 80% over the same period last year, with the Packaging Machinery businesses in particular benefiting from a strong period of conversion of prospects.  The consequence of this recent order activity is that the Group is expected to enter 2017 with a significantly higher order book than it had entering 2016.

So the shares are down by 7.5%, as the reality of a weak year now is offset by the prospect of a good one next time around. That seems to be a fair reaction, as results now are worth more than results later!

Pension: Paul has previously argued, and I agree, that the performance of this business (a good-quality business in its own right, in my opinion) is of secondary importance to investors, relative to the pension fund.
At June, falling interest rates resulted in an accounting pension obligation of £373 million (up from £336 million) against assets of £371 million (also up, from £347 million).
UK Treasury yields may have recovered a little bit since then, but the shares remain effectively call options on the pension fund - the upside is potentially huge, while the downside is that the shares may well turn out to be worthless.
For what it's worth, commissioned research forecasts now suggest that the company will achieve PBT in the current year of £0.8 million, and £3.2 million in 2017.
---

Cohort
(LON:CHRT)
Share price: 382p (-7%)
No. shares: 41m
Market cap: £157m

Half Year Results (for the six months ended 31 October 2016)

The market is also a little disappointed with results from this group of four technology companies: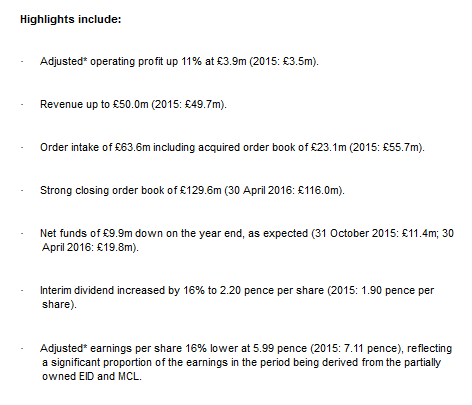 Excluding…

Unlock this article instantly by logging into your account
Don't have an account? Register for free and we'll get out your way
Disclaimer:
All my own views. I am not regulated by the FSA. No advice.
---
---

MPAC Group PLC, formerly Molins PLC, is a United Kingdom-based technology and services company. The Company is engaged in providing instrumentation, machinery and analytical services to the fast-moving consumer goods (FMCG), healthcare and pharmaceutical sectors, together with aftermarket support. The Company's Packaging Machinery segment supplies automated product handling, cartoning and robotic end-of-line packaging machinery and systems, and operates from three locations, in Mississauga, Canada; Wijchen, the Netherlands, and Singapore. The Packaging Machinery segment provides technical consultancy and machinery to solve packaging and processing challenges from its base. more »

LSE Price

Cohort plc is a holding company. The Company's segments include MASS, MCL, SCS and SEA. Its subsidiaries include Systems Consultants Services Limited (SCS) and SEA (Group) Ltd. (SEA). Its sub-subsidiaries include MASS Consultants Limited (MASS) and Marlborough Communications Limited (MCL). SCS is a defense consultancy. SEA is an electronic systems and software company operating in the defense, transport and offshore energy markets. MASS is a specialist defense and technology business, focused on electronic warfare, information systems and cyber security. MCL is engaged in sourcing, design, integration and support of communications and surveillance technology for the defense and security markets. It provides a range of services and products for the United Kingdom, Portugal and international customers in defense and related markets. The Company operates in the United Kingdom, other European Community (EC) countries, Asia Pacific, and North and South America. more »

LSE Price

Eco Animal Health Group plc is engaged in the development, registration and marketing of pharmaceutical products for global animal health markets. The Company's principal activity is the manufacture and supply of animal health products across the globe. These activities are conducted on a global scale, through a network, including both regional offices (notably in Shanghai and Princeton) and overseas subsidiaries. The Company's products include Aivlosin and Ecomectin. Aivlosin is an antibiotic that treats a range of specific enteric (gut) and respiratory diseases in pigs and poultry. Ecomectin is an endectocide that controls worms, ticks, lice and mange in grazing stock and pigs. It operates in the United Kingdom and Europe, the Far East, Latin America, North America, and the Middle East and Africa. Its subsidiaries include Eco Animal Health Limited and ECO Animal Health do Brasil Comercio de Produtos Veterinarios Ltda. more »

LSE Price