Small Cap Value Report (12 May 2015) - TTG, TPOP, CAMB
Good morning.
Share price: 143.5p (up 8% today)
No. shares: 159.0m
Market Cap: £228.2m
I reviewed  the issues facing this company here on 4 Nov 2014, when it issued a profit warning. My conclusion then was that, despite the various problems, it could make an interesting turnaround investment at some point.
Trading update - today's update sounds generally quite positive, saying;
The comments about having an enhanced focus on cashflow are a little worrying - that implies that the cash position might be getting tight? Or that the bank might be pressing them to reduce debt - net debt was £30.7m at end Oct 2014, which doesn't seem alarming, given the size of the company. I did notice that inventories looked high in the last set of accounts, so action to reduce them is a positive.
Outlook - the Directorspeak sounds upbeat, but note that it leaves the door ajar to another profit warning, if H2 doesn't improve on H1, as expected;

Valuation - tricky, because the company has been undergoing major restructuring, moving production from Germany to Romania. Note that the broker consensus has been steadily reducing over the last year, although seems to be bottoming out around 10p EPS;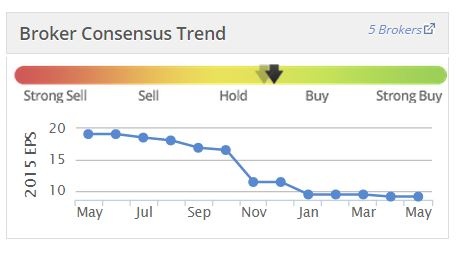 Personally I like to see this chart going in the opposite direction! Although at some point estimates factor in all the bad news, and start rising again, we just don't know when that will be.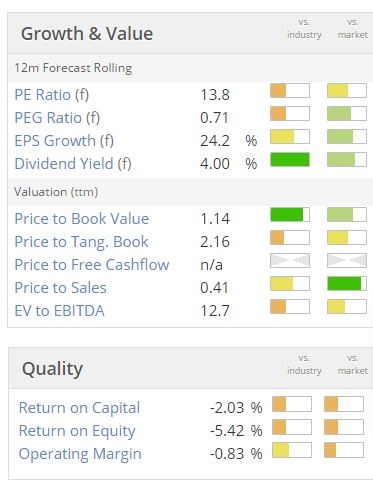 Assuming that broker estimates are correct, or even too cautious, then the valuation looks possibly about right, at the moment, who knows? It's impossible to say with any certainty, as we don't know how the turnaround will play out.
The divis look attractive, if they are sustainable - that's a nice 4.0% yield.
Note there is a large pension fund here, but the deficit is not too bad, but is still a cash drain of over £4m p.a. in deficit recovery payments.
My opinion - the shares have bounced nicely from the profit warning in Nov 2014.
One of the most frequent conversations I have with other investors, is when to sell - especially if there has been a profit warning.
Most people seem to think selling immediately is the best strategy, and they always say that "profit warnings come in threes!", etc. Yet…

Unlock the rest of this Article in 15 seconds
Already have an account?
Login here