Small Cap Value Report (13 Aug 2015) - QRT, SDM, CNIC
Good morning!
Share price: 210p (down 10.6% today)
No. shares: 19.7m
Market cap: £41.4m
I last reported on this "leading global illustrated book publisher and distribution group" on 9 Feb 2015 on renewal of the company's bank facilities.
Prior to that, I reported on 2 Feb 2015 covering the 2014 trading update. Those two articles are still relevant, so I won't repeat all the same detail below.
Interim results to 30 Jun 2015 - Quarto has made nearly all its profit in H2 in recent years, so the interims are not a good guide to full year performance. Accordingly today's fall in adjusted operating profit from $0.6m to $0.2m is not of enormous concern, although it would have been better to see profits improving.
Last year it made $0.6m adjusted operating profit in H1, and $14.8m in H2, so it's a very heavily H2-weighted seasonal trading pattern, which I presume is due to its illustrated books being popular items for gifts at Christmas.
Therefore it's a waste of time further analysing H1 trading, and more important to focus on the outlook comments for H2, which say;
We fully anticipate Quarto will have a strong second half of the year with good order book visibility.  Quarto will develop further as a business in 2015 and continue to expand our reach in channel, territory and format. We are well-positioned, as we have shown in recent years, to grow organically, capitalising on our strengths, making long-lasting, information-rich books and selling them in as many languages and channels as possible. We also intend to develop the business by making suitable acquisitions, as we have done, that are complementary to our existing businesses and provide financial and operational synergies, taking advantage of opportunities that support the long-term growth of our business around the world.
That sounds pretty emphatic to me, and the positive comments are backed up with "good order book visibility", meaning that it's more than just hoping H2 will be strong.
Valuation - the valuation graphics look very appealing, as do the quality scores too, so this initially looks a very good value share. Bear in mind that the graphics are based on last night's closing price, so with the shares down 10.6% today, the PER will now be nearer 6 than 7, and the dividend yield will have risen to about 3.4%.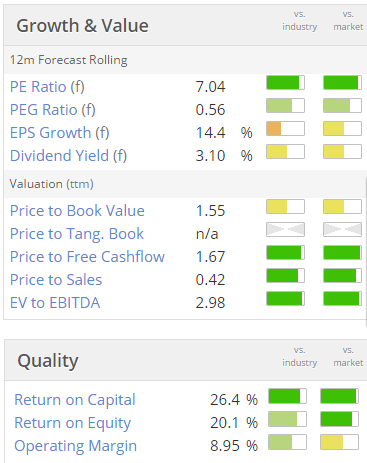 Unlock the rest of this Article in 15 seconds
Already have an account?
Login here