Small Cap Value Report (13 June 2017) - PKG, IOM, CML
Good morning,
Paul is a bit busy at the moment, so you're stuck with me a little longer.
Cheers
Graham
---
Park (LON:PKG)
Share price: 78.5p (-4%)
No. of shares: 184.4 million
Market Cap: £145 million
Steady progress at Park Group, a major gift voucher/gift card provider.
"4.6 per cent rise in operating profit to £10.9m (2016 - £10.4m)
4.2 per cent growth in profit before tax to £12.4m (2016 - £11.9m)
5.1 per cent advance in billings to £404.5m (2016 - £385.0m)"
The dividend is increased, and year-end net cash creeps up to £31.4 million.

I note that that Park's digital reward platform (technology for providing vouchers to customers and employees) has been expanded to for international reach - some decent growth potential, perhaps?
CEO change: a new CEO is needed as the incumbent wishes to retire - after 30 years of service! He will stay for at least one more year.
Outlook is good:

The current year has started well as we have, again, maintained the progress of the previous period.  The outlook for our corporate and consumer businesses is positive, with order books ahead of their position at the same time last year.
My opinion

Seems like a decent business, not too exciting but cranking out decent results years after year and moving with the times in terms of the use of technology, e.g:

The cost to us of opening a new account is now close to half that of 2011, while the cost of servicing a retained account has fallen some 70 per cent during the same time frame
The company's Facebook followers are up from 72,000 to 100,000 - sounds great!
Overall, something I'd potentially be interested to purchase. It's not at the same level as Visa or American Express in terms of desirability but perhaps it's not so very far away.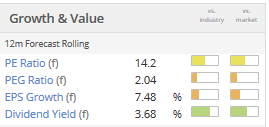 ---
Share price: 327p (-3.5%)
No. of shares: 107.7 million
Market Cap: £352 million

I last covered this cloud computing company at the interim results in December, when revenue was up 16% and adjusted PBT up 23%.
Full-year results are in the same ballpark, revenue up 17% and adjusted PBT going at a slightly slower pace, up…

Unlock the rest of this article with a 14 day trial
Already have an account?
Login here