Small Cap Value Report (14 Dec 2016 - Part 1) - BOO, LVD, PUB, VCP, TPG
Good morning!
I'm back from my holiday, suitably refreshed. A big thanks to Graham for covering for me whilst I was away. It's worked so well, that we've asked Graham to join the editorial team. So he and I will be working together, to provide better coverage - 5 days per week, all year round (except bank holidays obviously) - and covering more companies too. Plus we'll be able to discuss each other's views too, giving additional thought on many stocks.
Please note that Graham and I are both writing today, so there will be 2 articles, marked Part 1 and Part 2. I will be covering BOO, LVD, VCP, and possibly more.
Graham is covering in Part 2 the following companies - IQE, IDOX, and BOOM.
Here is the link to Graham's article today.
---
Share price: 118.25p
No. shares: 1,123.3m
Market cap: £1,328.3m
(I only hold a tiny, residual long position in BOO, having previously sold nearly all my shares)
Trading update & acquisition - it's a positive trading update. Key points;
Continuing to trade well
Revenue growth of between 38% and 42% in FY 17, against previous guidance of between 30% and 35%
EBITDA margin of between 11% and 12% in FY 17, against previous guidance of around 11%
Therefore, we should expect to see further increases in broker forecasts, continuing a pattern of increases - something you often see with very highly rated shares. It's so helpful when companies give specific numerical guidance like this, rather than generalised text waffle.
All companies should give specific guidance like this. Although I accept that it's easier for retailers, as the figures are easy to predict. Whereas businesses which rely on large contract wins will struggle to give reliable guidance.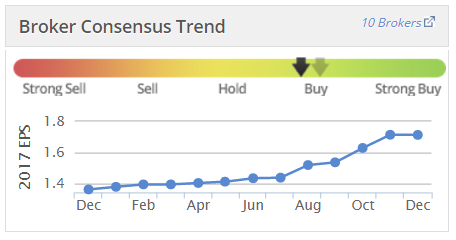 Acquisition of PrettyLittleThing - it's good to see the uncertainty & conflict of interest here has been resolved. PLT is a competing company, set up & run by the son of BOO's CEO. It's been clear for a while that PLT is an exciting growth company in its own right. However, that obviously creates a conflict of interest - not a problem when BOO was a private company, but a very serious problem once BOO is a listed company. You can't have the CEO's son running a very similar business on the side. Hence…

Unlock the rest of this article with a 14 day trial
Already have an account?
Login here