Small Cap Value Report (14 Feb 2017) - SXS, PEB, RWS, PDG, ALT
Good afternoon!

I'm planning to cover a couple of today's trading updates, plus the full year results from Spectris. Feedback is very welcome as usual - especially in helping me to understand which companies are most in demand, which will influence future reports.
Cheers,
Graham
---
Share price: 2500p (+3%)
No. shares: 119m
Market cap: £2,980m
I'll keep this brief since everything seems to be going pretty well for Spectris at the moment, after a difficult year but with an improving trend in the final quarter. Like-for-like sales finished down by 2% (they had been running at -4% prior to the final quarter).

This is a global instrumentation/controls business - giving exposure to a wide range of industrial markets.
There is currently some change afoot:

Our strategy is evolving from being the supplier of products towards the provision of complete solutions (a combination of hardware, software and services) to our customers, based on our deep application and technical expertise. As our customers focus on their core activities and seek to reduce cost and complexity, they have a greater need to outsource services to a trusted, reliable partner who is able to deliver high quality technical solutions.
Project uplift: A new project, expected to cost £45 million in one-off costs, but which will result in annualised cost savings of £35 million - a highly material amount.

Results: there was unfortunately a large impairment of goodwill, creating a discrepancy between adjusted and reported results.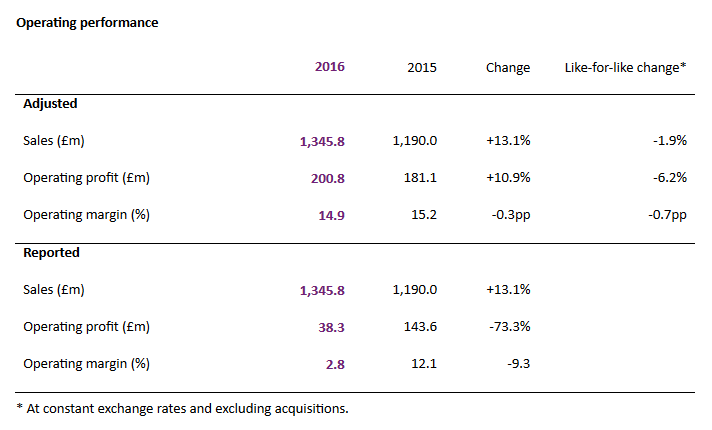 Impairment:

Always worth investigating impairments:

The reported operating profit included a non-cash impairment charge of £115.3 million pre-tax relating to a write-down of the balance sheet goodwill and other intangibles associated with Omega Engineering ('Omega') and ESG Solutions ('ESG'). The impairment charge arose from the recent weaker trading performance due to the challenging conditions experienced, particularly in North America, and ongoing process improvement requirements at Omega and for ESG, the continued weakness in the global oil and gas markets.
Dividend: up by 5%, made possible by 113% of adjusted operating profit being converted into cash.
My opinion: 
I've always perceived this to be a very good-quality business - too large to get a good handle on without doing a lot of detailed research, but almost certainly worth considering for a diversified FTSE-250 portfolio. Diversified exposure to niche industrial services, along with a…

Unlock the rest of this article with a 14 day trial
Already have an account?
Login here