Small Cap Value Report (14 Mar 2017) - GYM, BLTG, BUR, FCCN
GYM (LON:GYM)

Share price: 183.9p (+2%)
No. shares: 128m
Market cap: £236m
(Edit: Please note that after initially publishing this note, I bought some shares in GYM. I now have a long position in this company).

Nice progress at The Gym, with the growth strategy being executed as planned.
To quickly summarise what it's doing: The Gym is pioneering the low-cost gym model with 24 hour opening times, a skeleton staff structure, no long-term customer contracts, and much cheaper prices than the conventional gym chains.
Today's statement mentions that one third of joiners are new to gym membership, which bodes well for discount chains growing the market and not just taking share from the competition (although they also mention that the largest number of new joiners come from traditional higher cost gyms).
The adjusted profit before tax for the year was £8.7 million and customer numbers grew by 19% to 448,000, as had already been revealed in the trading statement I covered here in January.
According to the CEO, "the way our new sites mature over time remains predictable", and this can be seen seen in the EBITDA per mature site, which is almost flat year-on-year despite the growth of the estate.

They also claim to have a "known and predictable cost base", in contrast to other leisure businesses and indeed the EBITDA margin on mature sites is fairly stable year-on-year (up to 47.5% from 46.3%).
Outlook

The new financial year has started well and in line with the Board's expectations. January and February are the two most significant trading months of the year for any gym business. Membership numbers at the end of February had increased to 495,000, a record level, with a 10.5% increase since December 2016. This level of member growth will help to underpin our performance for the rest of the year.
In 2017 we anticipate opening towards the top end of the guidance range of 15 to 20 sites. As in 2016, these site openings will be weighted to the second half of the year, with six sites expected to be open in the first half of the year.
Financial Results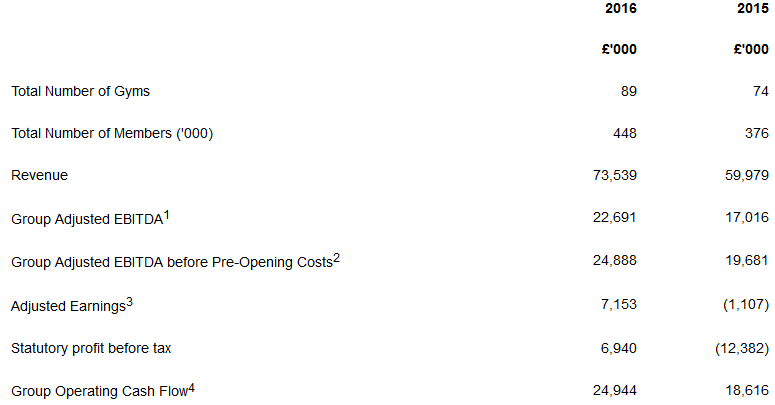 I'm sure some folks will be looking at this on a PE ratio basis, but for something which is rolling out across the country, it really needs to…

Unlock the rest of this Article in 15 seconds
Already have an account?
Login here