Small Cap Value Report (14 Oct) - SRT, TSTL, YOU, MCB
Good morning! It's going to be a quiet week for me this week, as I'll be home every day in Hove, so we'll be back to early starts here every day. As opposed to constant trips to London for company meetings in the previous 3 weeks, which was informative, but takes up a lot of time.
I'm currently engrossed in the trading statement webcast from Software Radio Technology (LON:SRT), a £36m market cap technology company providing marine tracking beacons. What an excellent innovation from such a small company, to communicate so well with investors and analysts by the CEO giving a briefing by video on the internet, accessible to all. You can even ask questions live. Excellent stuff! I'm very much supportive of this kind of initiative, which levels the playing field so that increasingly private investors are also getting the same quality of information as Institutions, which is how it should be.
After all, it's private investors who set the share price, and create the liquidity in the shares, and narrow the bid/offer spread. So companies & their advisers that ignore us, are not really thinking.
SRT has an excellent story to tell, and it all sounds very interesting, but it's too speculative for me. I generally like companies that are already producing good, sustainable profits, and are reasonably priced. Rather than, as in this case, companies that promise to make profits in future, but where the share price requires you to pay up-front. You need to do a lot of research for this type of growth company, to be sure that the likelihood of them hitting profits targets is high enough to justify being asked to pay up-front for it with a toppy rating. Even then, things can go wrong, so it's not for me.
Where there is a large speculative element to a company's valuation, then personally I feel happier with a sub-£20m market cap. Happier still nearer to £10m market cap.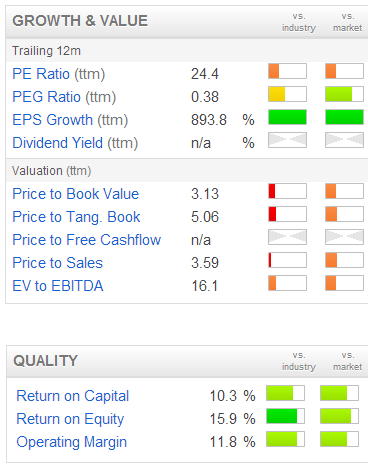 I should also add that SRT today announces a small acquisition of a company called GeoVS, which has developed 3D marine imaging software. The £955k purchase price has been satisfied by the issue of 3,083k new shares in SRT. Although it doesn't add any earnings at this stage, just costs, expected to be £400k in H2.…

Unlock the rest of this Article in 15 seconds