Small Cap Value Report (15 Jan 2015) - AVS, CAMB, BON, BMS, LVD, BQE
Good morning! Busy for trading updates this morning. I see Home Retail (LON:HOME) has reported profits in line with expectations, but LFL sales at Argos are only up 0.1%, which is very surprisingly low (I was expecting a much higher figure). Asian markets did well overnight, so we should see a strong bounce in the UK first thing today.
Share price: 121.5p
No. shares: 18.9m
Market Cap: £23.0m
Preliminary results - for the year ended 30 Sep 2014 are out today. My first impressions are positive. Here are the highlight points from today's results, with my comments below.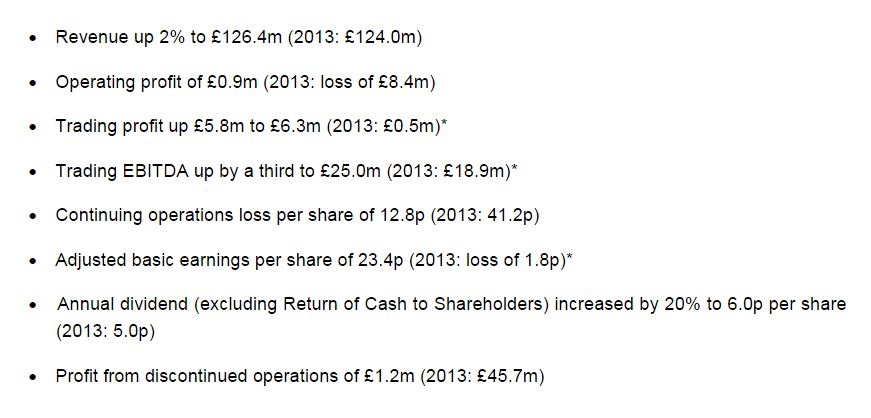 Trading profit - this is £6.3m, which looks excellent for a company with a market cap of only £23.0m. Why is it so different from operating profit of £0.9m? The difference is £5.4m in exceptional costs. I can't see a breakdown of those exceptionals, but the narrative reassures me that they do indeed seem bona fide exceptionals;

EBITDA - it's not often that you see an EBITDA figure that is higher than the company's entire market cap, but it is here! Before getting too excited though, one needs to bear in mind that the equipment that Avesco buys & hires out, has quite a short life, so is depreciated rapidly. Therefore you can't ignore the depreciation charge by measuring performance on EBITDA.
However, having such high EBITDA does mean that if the bank ever goes wobbly on the company, then it could just switch off capex, and would then throw off tons of cash, which could be used to settle the bank debt quickly. That cash generative nature of the business makes me more relaxed about:
Net debt - I'm not madly keen on the Balance Sheet at Avesco, which has rather more debt than I would like. However, in relation to the cashflows, it's probably alright. After all, debt is only a problem if the bank thinks you can't pay it back!
Net debt reduced in 2013/14, to £21.4m. That is only 0.86 times EBITDA, so doesn't look a problem. Note that the company has plenty of headroom on its bank and HP facilities, which total £48.6m. Facilities are in place until June 2018, so this all looks OK to me.
Turnaround - the most interesting thing about Avesco, is that the company…

Unlock the rest of this Article in 15 seconds