Small Cap Value Report (15 Sep 2017) - GYM, PURP, CCT
Happy Friday!
Great news for holders of GBP as EURGBP has fallen by 1.1% over the last 24 hours.
The FTSE had to compensate for this, and it also fell by 1.1%. All because of a few non-committal hints from the central bankers about what they might do, depending on the data.
Paul added more sections to yesterday's report in the evening, so it now includes Franchise Brands (LON:FRAN) and Haynes Publishing (LON:HYNS) along with four other stocks.
Finally, there is a Mello Beckenham on Monday at which Image Scan Holdings (LON:IGE) will be presenting (in which Paul holds a long position!)
Cheers,
Graham

---
GYM (LON:GYM)
Share price: 201.75p (pre-open)
No. of shares: 128 million
Market cap: £259 million
Acquisition of 18 gyms from Lifestyle fitness
An interesting boost to growth for this low-cost gym operator, as it buys out 18 sites from a competitor (albeit a competitor which doesn't strictly meet the definition of a low-cost gym).
Gym has been opening 15-20 sites per year organically, so this is a nice doubling of the organic growth rate. The acquisition is expected to be "significantly earnings enhancing by 2019".
Revenue has been growing at a decent clip here: up 19% according to the most recent interims, with H1 PBT increasing 75.5% to £6 million.

I'm impressed with the business model and the prospects, and find myself tempted to dabble in these shares again.

Stocko acknowledges the Quality and the Momentum: two out of three ain't bad!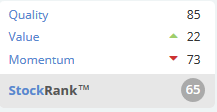 ---
Share price: 389.75p (pre-open)
No. of shares: 272 million
Market cap: £1,060 million
Another growth story, although not one that I'm a fan of. This real estate agency is one I'd like to short, if I was still in the business of shorting!

It's launching in the US later today, in Los Angeles. The plan is to spread through California and then other target states.
LA is apparently a place of extraordinarily high commission income for realtors. There are both selling agents and buying agents for LA property transactions, raking in the fees,…

Finish reading with a 14 day trial
Already have an account?
Login here