Small Cap Value Report (16 Aug 2016) - UBI, CGS, SSY
Good morning!
---
Share price: 29p (up 7.4% today)
No. shares: 55.9m
Market cap: £16.2m
Interim results to 30 Jun 2016 - interesting company, but when is it going to make sustainable profits? The trouble with permanently loss-making companies like this, is that they need refinancing every now and then, to keep the wolves from the door. That usually means dilution for shareholders, and a relentlessly falling share price.
Punters hope that one day there might be some game-changing news that leads to a vertical share price move upwards. That's a hopeless way to invest - as I've learned from experience. Being an optimist can be a huge impediment to investing success, if you repeatedly buy into jam tomorrow stocks. They practically all fail to deliver on what is promised, so risk:reward is just terrible with this type of share.
That said, it is a proper business, generating real turnover. It just never seems to make sustainable profits. So the danger is that management & staff are perhaps just busy fools? After all, customers are usually happy to buy products or services which are being sold at below the overall cost of providing them. That's a nice subsidy.
The Stockopedia graphical history doesn't exactly fill me with confidence;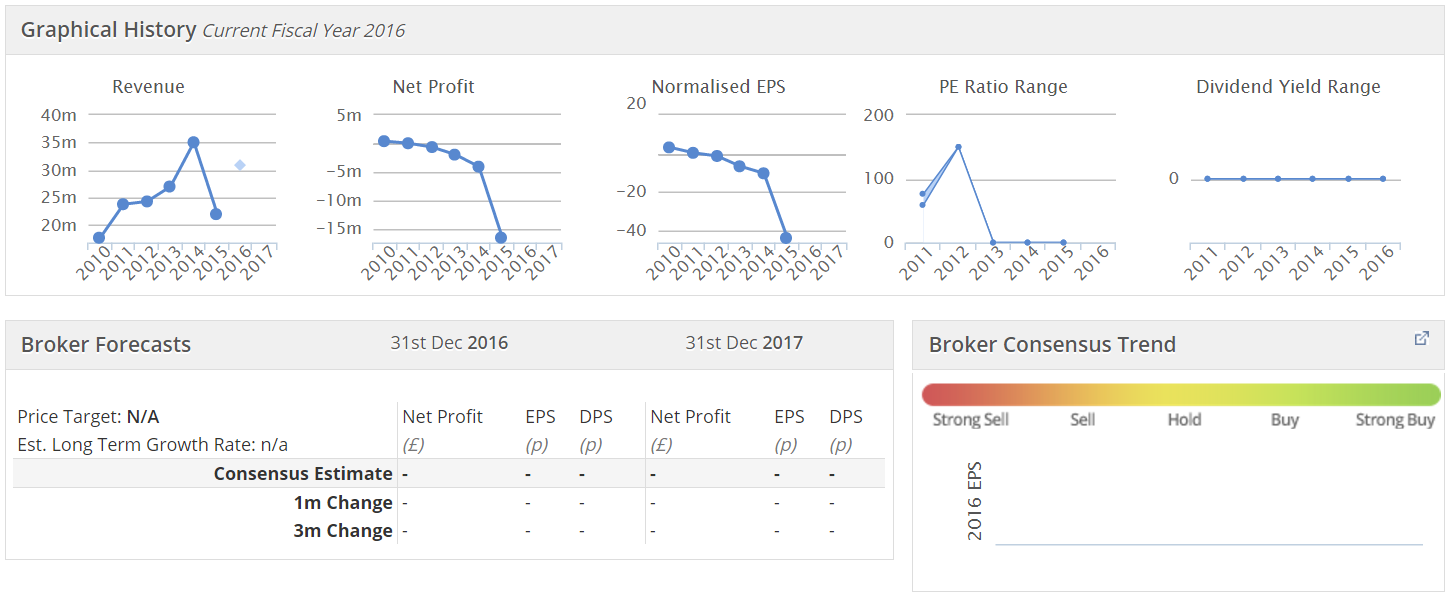 Thomson Reuters doesn't seem to have any broker forecasts, so I've asked my broker to have a dig about to see if he can find any research on the company.
H1 figures out today don't look particularly good. Key points;
Turnover is up marginally at £10.7m (up 3.1% on H1 2015)
Adjusted EBITDA -£637k loss. If they can't get this, the most flattering measure of profitability, into the black, then that's a poor show.
Loss before tax of -£897k looks a dramatic improvement (H1 2015 loss of -£7.5m), however H1 2016 is flattered by a net profit of £1.5m from non-recurring items (mainly a £1.65m forex gain), so the business is still loss-making on an underlying basis.
Overheads have been reduced in a restructuring - which has reduced losses. Maybe more cost cutting is needed?
CEO left (probably pushed, given the poor financial record) in May 2016. It is seeking a new CEO, the Chairman is currently in charge. Not good, but if they find a decent new CEO then that could be a catalyst for a share price rise, perhaps?
Placing in Apr…

Unlock the rest of this Article in 15 seconds
Already have an account?
Login here