Small Cap Value Report (16 Feb 2015) - DX., QFI, TUNG, ALLG
Good afternoon!
A late reminder, it's the Mello Beckenham tonight, and I've got a couple more investor events to mention tomorrow.
Share price: 95p
No. shares: 200.5m
Market Cap: £190.5m
Interim results - are out today, covering the six months to 31 Dec 2014.
This company may not be on many investors' radar, as it floated about a year ago, went to a decent premium to the 100p Placing price, but has since drifted downwards to now stand slightly below the IPO price. As with quite a lot of smaller caps recently, the chart appears to now be forming a base, and edging upwards. So it looks potentially interesting, in terms of timing, maybe?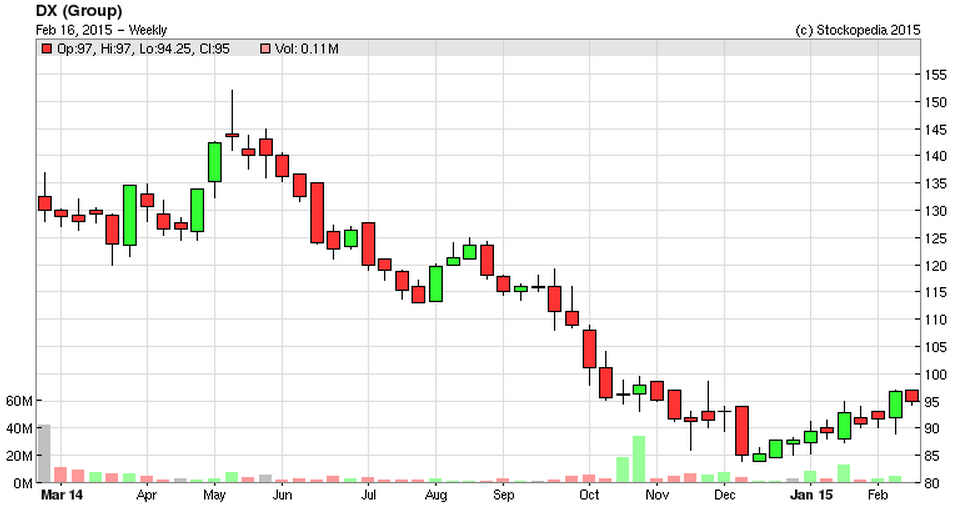 The group's activities are a parcels/logistics group, but for niche items - e.g. time-sensitive, high value, oddly shaped items, etc.
Trading - the company says it traded in line with expectations in H1, and notes that there is a bias towards H2 with its typical trading. Both turnover and adjusted operating profit are slightly down, therefore it looks like a mature business.
I note that the group has an unusually strong operating profit margin, given that it operates in a competitive sector, suggesting that it has some competitive advantages. The £10.7m adjusted operating profit is a healthy 7.3% of turnover. That's very good for a freight/logistics company.
Balance Sheet - this is dominated by goodwill, so stripping that out, the NTAV is negative, by £11.6m. However, there is surprisingly little debt, with net debt reported at only £12.1m, which is modest compared with the level of profits. On closer inspection, it appears that the company has a favourable cashflow model, whereby customers pay up-front - this is revealed by the £22.5m deferred income shown in creditors.
Overall, I wouldn't describe this as a strong balance sheet, but given the company's decent cashflows, it's not worryingly weak either.
Outlook - nothing specific on trading is said, just a general update on their plans to integrate & develop various parts of the group.
My opinion - I particularly like the dividend yield here, and the business has an excellent operating margin considering the sector it operates in. However, the company's comments about email substitution have rattled me a bit, see below (I haven't got the hang of the highlighter tool…

Unlock this article instantly by logging into your account
Don't have an account? Register for free and we'll get out your way
Disclaimer:
As per our Terms of Use, Stockopedia is a financial news & data site, discussion forum and content aggregator. Our site should be used for educational & informational purposes only. We do not provide investment advice, recommendations or views as to whether an investment or strategy is suited to the investment needs of a specific individual. You should make your own decisions and seek independent professional advice before doing so. Remember: Shares can go down as well as up. Past performance is not a guide to future performance & investors may not get back the amount invested. ?>
---
---

DX (Group) plc is engaged in the provision of parcels, mail and logistics services in the United Kingdom and Ireland. The Company's segments include parcels and freight, mail and packets, and logistics. The parcels and freight segment offers services, such as DX 1-Man, engaged in the delivery of irregular dimension and weight items; DX Courier, which provides next day parcel services, and DX 2-Man, which offers a business to consumer home delivery solution for heavier and bulkier items. The mail and packets segment comprises services DX Exchange, a business to business (B2B) mail service providing its customers with collection and delivery times; DX Secure, which provides security, and DX Mail, a mail service offering downstream access for smaller volume users. The logistics segment includes the provision of customer-liveried vehicles and uniformed personnel, such as fleet management solutions and integration with customer's business operations. more »

LSE Price

Quadrise Fuels International plc is a United Kingdom-based company, which is principally engaged in the manufacturing and marketing of emulsion fuel for use in power generation, industrial and marine diesel engines and steam generation applications. The Company offers emulsion fuel multiphase superfine atomized residue (MSAR) as a substitute for heavy fuel oil (HFO). MSAR is a low viscosity oil in water emulsified synthetic HFO. It is manufactured using technology to mix heavy residual oils with small amounts of specialist chemicals and water to a bespoke formulation. The Company focuses on two markets: Marine MSAR, which is a replacement bunker fuel, and MSAR, which is a replacement HFO for stationary applications. The Company is the licensor of MSAR technology and offers integrated solutions for oil refiners and end users. The Company's subsidiaries include Quadrise International Limited, Quadrise Limited and Quadrise KSA Limited. more »

LSE Price

Tungsten Corporation plc is engaged in e-invoicing, purchase order services, analytics and financing business. The Company's segments include Tungsten Network, Tungsten Network Finance, Tungsten Bank and Corporate. Its Tungsten Network segment includes e-invoicing and spend analytics business of Tungsten Network. The Company's Tungsten Network Finance segment includes the supply chain finance business. Tungsten Network connects buyers to their suppliers, enabling tax-compliant electronic invoicing. Its software translates and validates each supplier invoice, and allows suppliers to check invoice status online. All the users ' invoices are digitally signed, encrypted and stored within the Tungsten Network image archive, where the user can access them anytime. Tungsten Bank provides specialist banking products and services. It focuses on providing invoice financing solutions to small and medium enterprises (SMEs) in the United Kingdom, the United States and Europe. more »

LSE Price