Small Cap Value Report (18 Aug 2016) - EMR
Good morning!
Kingfisher (LON:KGF) today reports a strong performance in the UK, and a poor performance in France;
"We have delivered another solid sales performance in Q2 driven by the UK and Poland. In the UK, the EU referendum result has created uncertainty for the economic outlook, although there has been no clear evidence of an impact on demand so far on our businesses.

In France, widespread industrial action and exceptionally wet weather created a more challenging environment, after a more encouraging Q1. We remain cautious on the short-term outlook.."
---
Share price: 98.8p (up 0.8% today)
No. shares: 49.0m
Market cap: £48.4
Interim results, 6m to 30 Jun 2016 - this diversified staffing group has put out good half year figures today. Here are the highlights (i.e. the figures that the company wants us to focus on);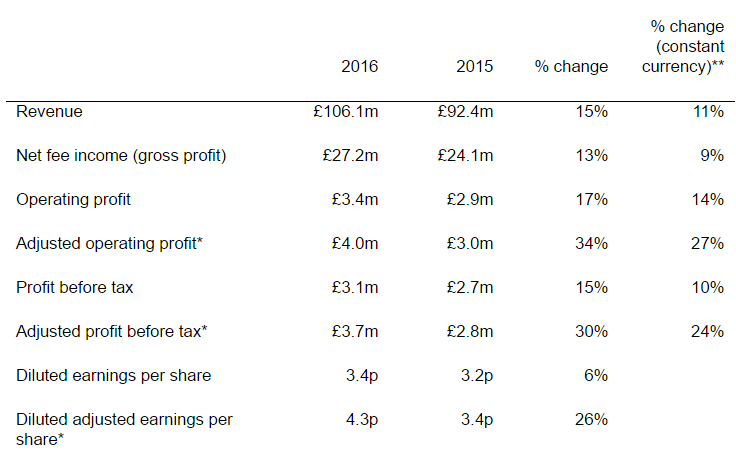 Note how the currency effect has reversed - i.e. last year most companies showed stronger growth in local currency, but that was blunted when translated into strong sterling. The opposite is now the case - so overseas earnings are now translating into a better growth percentage when expressed in now weaker sterling.
That's a recurring theme in these reports of late - the sharp deterioration in sterling after Brexit means that companies with overseas earnings are sitting pretty - as those overseas earnings are now worth more when converted into sterling.
I interviewed the CEO & FD of Empresaria recently. Here is the link. There's a lot of useful background information about the group in this audio interview. I was impressed with the company's logical, and effective strategy to diversify across different geographies & sectors.
A fairly big acquisition (£7.5m) was made just after the interim period end, which is important to remember in terms of increased debt.
Balance sheet - net assets of £38.5m reduces down to only £3.5m NTAV, once intangibles of £35.0m are disregrded.
So there's really only a sliver of equity, with the business mainly being supported by bank debt. Net debt was £10.2m at the interim period end. A figure for "average net debt" is also given, of £10.5m. I'm assuming this is the average daily net debt over the 6 months. I wish all companies would report this figure, as average net debt…

Unlock the rest of this Article in 15 seconds