Small Cap Value Report (19 Dec 2014) - NGR, OSG, PRW, IDEA, RGD
Good morning! It's been another remarkable V-shaped rebound by the US markets in the last few days. This pattern just keeps recurring - i.e. a market sell-off, then an immediate and strong rebound all the way back up again. Although I'm wondering what will happen eventually when this pattern stops working? Maybe a more serious sell-off? Although with the US economy now being heavily boosted by the lower oil price, it's difficult to see why US equities would sell off in the face of a recovering economy. Who knows? I can't help feeling that this bull market is looking stretched though.
The US markets might be powering along, but there's no sign of a bull market in my neck of the woods, in UK small caps. We're still firmly in the doldrums, with AIM teetering only a few points above its lows for the year, and FTSE Small Caps also looking soft, here's the latest chart of both;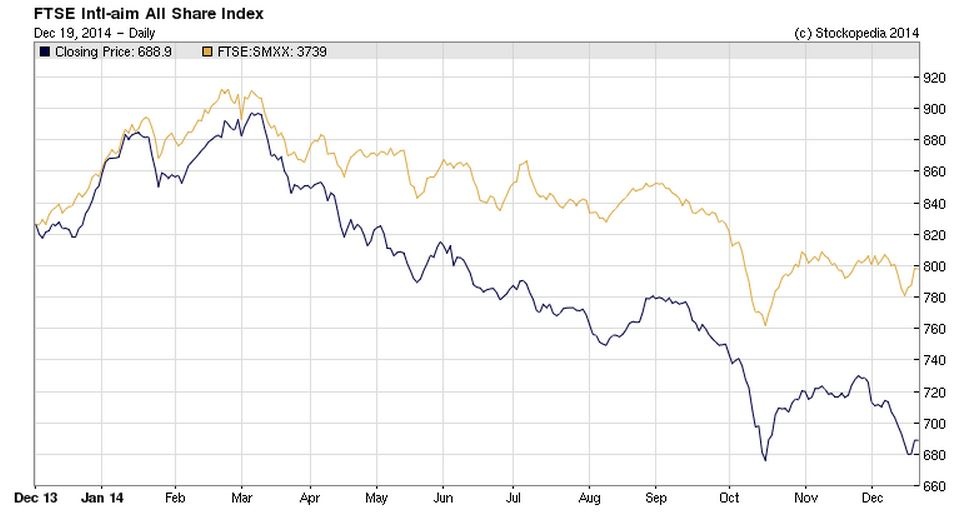 So if you only invest in small caps, then you've probably had a fairly rough year.
---
Share price: 10.5p
No. shares: 79.3m
Market Cap: £8.3m
This company is an absolute disaster area, in my opinion.
Profit warning - yet again it has disappointed. It's got to the point where I don't think you can value the company on future expectations at all, as nobody (least of all management) seem to have any idea what trading is going to be like.
On the positive side, there is a £1.1m (initial revenue, so presumably with scope for more?) contract win in Norway announced today, for Nature's water & sludge treatment units.
Everything else is negative, the key paragraph saying;

That's bad. "...materially below current market expectations" is nearly always enough to trigger a 30%+ fall in share price, and sure enough these are down about 35% today.
My opinion - with its operations mainly linked to the oil industry, it's bound to see continued difficult trading. The loss in H1 was about £1.0m, so a similar loss in H2 means that the full year results are going to look awful.
There was about £2.4m in bank debt on the Balance Sheet when last reported on 30 Jun 2014, although at that time it was more than offset by £3.0m in cash. My worry is that if the cash is now depleting, then will the bank…

Unlock the rest of this Article in 15 seconds