Small Cap Value Report (2 Nov 2018) - SYS1, FORT, FOUR, ETFs
Morning all,
A very quiet day in RNS-land today. Which is helpful seeing as I've been occupied with a wide range of administrative chores. Being self-employed can be very complicated, as I'm sure some of you will appreciate!
Anyway, that's my excuses out of the way.
Today we have interim results from System1 Group, a company that is no longer in my investible universe but which I'm happy to keep half an eye on.
I can't see anything else of interest so I suppose this is the bit where I take requests and ask if there is anything from earlier in the week that I missed?
Cheers
Graham
---
Share price: 195p (+8%)
No. of shares: 13 million
Market cap: £25 million
Let's see how Brainju... I mean, System 1, has been doing recently:
This table says it all: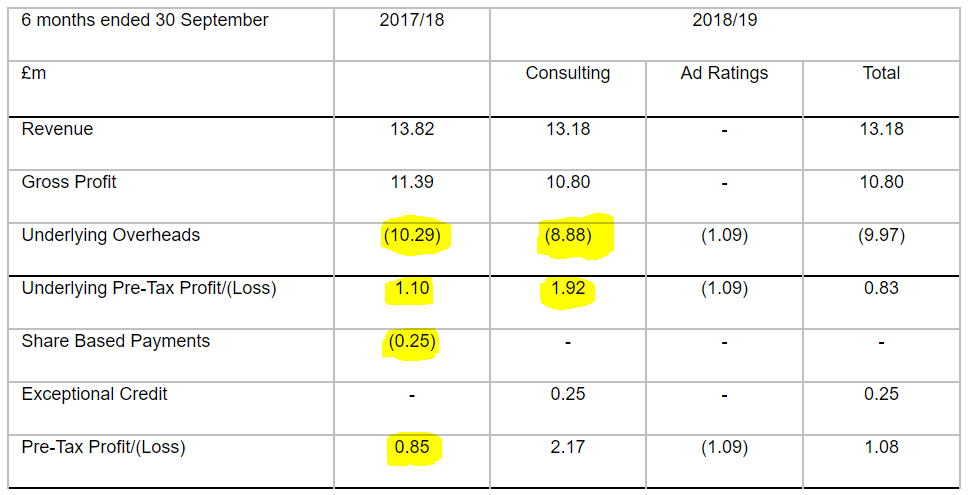 The key points are as follows:
revenues and gross profits down, but...
underlying overheads also down significantly, with average headcount down by 19%, so we get a much improved underlying PBT result from consulting activities (£1.92 million vs. £1.1 million).
System1 breaks out the £1.09 million spend on developing its new Ad Ratings product, so that we can treat it separately. That's fair enough.
The result this period also benefits from the lack of any share-based payments. Good.
So what are the most important numbers in this table? I would say that the £1.9 million in underlying PBT from Consulting is the most important one.
We do have to bear in mind that this figure is before share-based payments, which are likely to feature again in Systems1's future.
It's still a decent result and makes the shares look modestly priced with a £25million-odd market cap.
AdRatings: £1.59 million in total has been spent developing this new business line. Of that amount £1.09 mllion was expensed (i.e. included on the income statement) while the rest was capitalised (i.e. recorded as an asset on the balance sheet).

Cash: System1 has historically had a very strong balance sheet and cash pile. With the increased investment, cash reduces to £3.55 million. That's still plenty for a company of this size.

Dividend: unchanged for now, but the final dividend may be reduced.

CEO comment: excited about the new Ad Ratings service, and thinks the existing business "will continue to stabilise and in…

Unlock this Article with a 14 day free trial
Already have an account?
Login here