Small Cap Value Report (20 Jul 2015) - BRY, MBH, XLM, ENTU
Good morning!
It's hot and humid here in Spain (near Barcelona), where I shall be residing this week, in a modern but strangely sterile resort called Dolce Sitges. However, these reports carry on as usual, albeit with probably a few more typos than usual - my ancient Chromebook has latency on the keyboard, so misses out the occasional letter when it can't keep up with me! (one of the spin-off benefits of writing these reports every weekday, is that I've learned how to touch-type, quite fast, which is nice).
Mello Beckenham
David Stredder has just texted me to ask if I would remind regulars (many of whom read these reports) that there is no meeting tonight. The next one is on 21 Sep.
---
Share price: 105p (down 2.3% today)
No. shares: 83.3m
Market cap: £87.5m

Trading update - the company says positive things about contract wins, but then reveals that H1 turnover will actually be slightly below last year;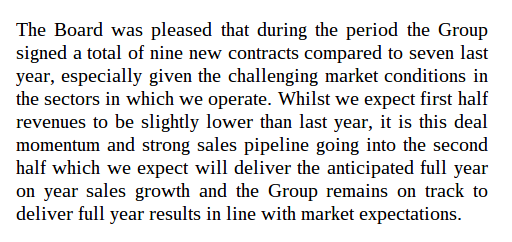 Usually I'm very sceptical about companies which say they hope to achieve full year results after a soft H1, but in this case they do seem to have good grounds (contract wins & a strong pipeline) to justify confidence.
Valuation - given that valuations are quite high at the moment (PERs are much higher than 2-3 years ago on most stocks I follow) then this looks priced about right, relative to the rest of the market, in my opinion: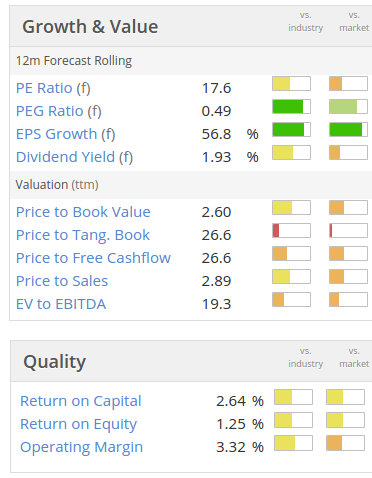 Sofware companies generally
- there's an argument that software companies have strategic value, if they have systems which are a critical part of their customers' operations, so they're not usually cheap. Also in my experience, software companies seem to often get away with charging multiple customers for the same enhancements - i.e. the code is already written, but they don't tell customers this fact, when they request an additional feature. So the same work can be charged for multiple times - so good for profitability.
Another advantage that software companies have, is that if they're not paid (even disputed invoices), they can go nuclear by just switching off your business-critical systems. As you might have gathered, my experience of dealing with software companies as a customer, has not always been positive, but it has made me admire their business models, and hence it's a sector I like investing…

Unlock the rest of this Article in 15 seconds