Small Cap Value Report (20 Nov 2014) - SPRP, RGI, SPGH, OUT
Good morning!
The Pubcos really took a battering yesterday, as the news sank in of the potential ending of the tied pubs model. Analysts seem to think it will hurt profits considerably at pubcos, but that they will seek to increase rents to offset the lower profits from inflated beer prices to tenants. So it will be interesting to see how that pans out. Presumably there is likely to be a time lag with increased rents, and tenants may challenge increases with the independent adjudicator. I was considering buying some Marston's (LON:MARS) shares, but will hold fire until the lie of the land is more clear. The key point is to ascertain how many tied pubs (as opposed to managed pubs) each pubco has.
Shareholders here will be pleased with a strong update this morning. The company, which sells smoke alarms, seems to be going from strength to strength, helped by smoke alarms being a new legal requirement in France.
Since the release of its unaudited interim results on 22 September 2014, Sprue, one of Europe's leading home safety products suppliers, is pleased to announce that the Company's financial performance has continued to be strong and October was a record month for sales and profit.  

Based on the current order book, and subject to products being built and shipped in line with the current delivery schedule, the Board expects that the Company's results* for the year ending 31 December 2014 will be ahead of market expectations.
Valuation - broker forecast is for 16.8p EPS this year, so if they are now perhaps heading for (at a guess) say 18p, then at 320p the shares would be on a PER of 17.8, which looks reasonable considering how fast earnings are growing - see the excellent track record below;

My opinion - I made a mistake here, selling out far too early around 200p. Can't bring myself to buy back, but if I still held, then I'd be very comfortable with the company's performance. The key question, as always, is whether the increased profits are sustainable, so more work is needed on that vital question. So far so good though!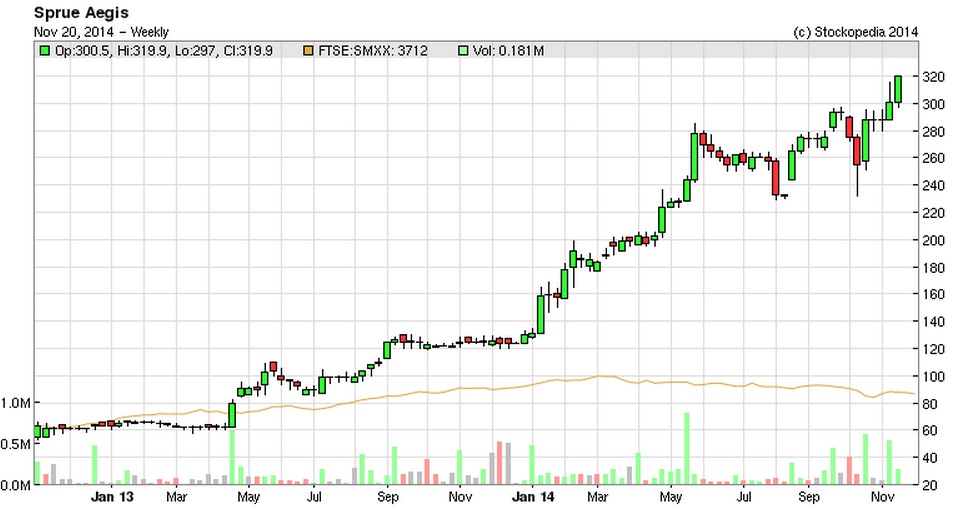 ---
Rose (LON:RGI)
This is an AIM-Listed property company, operating in Russia, which has a 73% major shareholder - it…

Unlock the rest of this Article in 15 seconds