Small Cap Value Report (20 Oct 2015) - IGR, GBG, SRT
Good morning!
Advance notice that I am, tomorrow (Weds 21 Oct 2015) doing my next CEO interview, with Simon Tucker of SRT. I'll be asking the one obvious question - when are sales finally going to take off? If you have any other pertinent questions, then please leave a comment below this article, and I will try to include that in the questions i put to him tomorrow.
---
Share price: 134.75p (up 0.6% today)
No. shares: 58.8m
Market cap: £79.2m
(at the time of writing, I hold a long position in this share)
Trading update - this company describes itself as, "one of the world's leading designers, innovators and manufacturers of gift packaging and greetings, social expression giftware, stationery and creative play products".
Checking back through the archive here, to refresh my memory, I last wrote positively about this company on 26 Aug 2015 here, summarising the main points. The company issued an in line with expectations update then, and there's another one today.
The update today covers H1, i.e. the six months to 30 Sep 2015, and gives a number of upbeat-sounding bullet points. The key one says;
The Board is pleased to confirm trading for the six month period to 30 September 2015 is in line with expectations.
On the full year outlook, the company says;
Sales revenue in the year to date, together with a solid order book underpins our expectations for full year revenue.
Net debt is also flagged (important, as this has been an issue in the past);
Our seasonal working capital build in the run up to Christmas has recurred in line with expectations.  However, we anticipate reporting H1 net debt significantly lower than at the same period last year.
Valuation - despite the shares having had a good run, it still looks quite good value, and note that the StockRank is 99.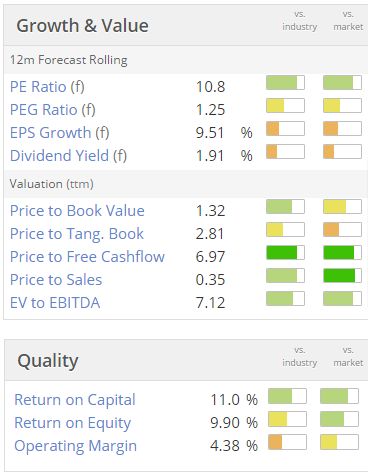 My opinion - there seems to be a decent turnaround underway at this company. Gervais Williams rates management here too - he was enthusiastic about this company a few months ago at Mello Peterborough.
The balance sheet has been inefficient in the past - with high inventories, funded with too much debt, but that seems to be improving.
All in all, I like it. If the turnaround continues, then I wouldn't be surprised…

Unlock the rest of this Article in 15 seconds