Small Cap Value Report (21 Apr 2016) - UCG, LAKE, CNS, TRK, MPM
Good morning!
It's very quiet for results/updates today too.
Ed's webinar starts at 12:30 today. These are always very intereting, often pointing out useful features within Stockopedia that I didn't know were there! The focus today is on the thousands of new international shares that have just been added to the site.
---
Share price: 13.0p (up 16.9% today)
No. shares: 81.4m
Market cap: £10.6m
(at the time of writing, I hold a long position in this share)
Trading update - for the year ended 31 Mar 2016. This company describes itself as:
United Carpets Group plc, the second largest chain of specialist retail carpet and floor covering stores in the UK
As the map on its website shows, its shops are clustered mainly in the Midlands, and North of England. Apart from one shop which seems to have escaped to South Wales. Note that the areas recently hit by flooding seem to be reasonably near to UCG's stores, so perhaps it has received some benefit from customers having to replace flood-damaged carpets?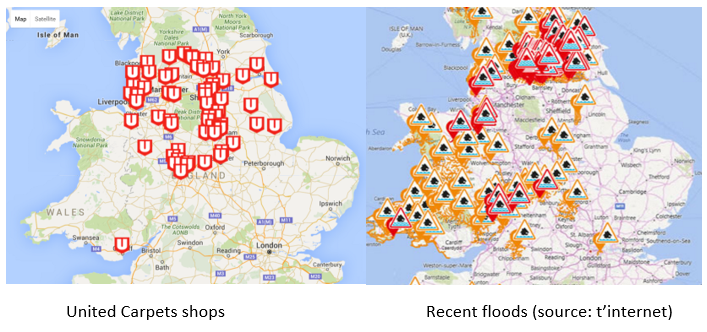 Trading has been good:
...pleased to announce that the improved trading performance seen in the first half of the financial year ending 31 March 2016 continued into the second half of the financial year. On a like for like basis, sales for the second half increased by 6.4% against the comparable period last year.

As a result, the Board now expect its final results for the year ended 31 March 2016 to be ahead of market expectations.
Excellent stuff.
Valuation - it looks cheap to me. The house broker has today upped its forecast for y/e 31 Mar 2016 to 1.43p. That values the company at a PER of 9.1 - which looks good value for a small, growing company, which is trading well.
Balance sheet - the house broker also notes that UCG has £1.5m in net cash, about 14% of the market cap.
Dividends - note that the business has been decently cash generative of late, and came storming back onto the dividend list in 2015, after a hiatus of not paying divis since 2011.
A special divi of 1p was paid in Jun 2015, then 0.75p paid in Oct 2015, and another 0.125p in Jan 2016. So shareholders have received 1.875p in divis in the last year - that's a yield of…

Unlock the rest of this article with a 14 day trial
Already have an account?
Login here