Small Cap Value Report (21 Nov 2016) - AVS, AN., BON, DX.
Good afternoon!
Mello Beckenham
We're hoping to have a full house at Sea Salt restaurant in Beckenham tonight. Organiser David Stredder has asked me to do a presentation on the key features about Avesco (LON:AVS) which pointed towards both the share being undervalued, and the possibility of a takeover. The idea being to identify points which we may be able to spot at other companies, and hopefully thereby spot future big winners.
So I was burning the midnight oil last night, learning how to use Powerpoint - something which has been on my to do list for about 20 years. It only took 17 minutes, watching this video, to learn the basics. Four hours later, and my slides were created. Exciting!
If you'd like to come along, there are a few places left. Booking details here.
---
Share price: 332.5p (up 16.6% today)
No. shares: 48.6m
Market cap: £161.6m
Recommended cash offer - the takeover bids are coming thick & fast at the moment. However, I doubt many Alternative shareholders are celebrating today. This agreed deal is at a pathetic 17% premium to the last closing price.
The explanation for this deal given in today's announcement seems unconvincing to me. The price of 335p looks far from generous, when you look at the 2-year chart: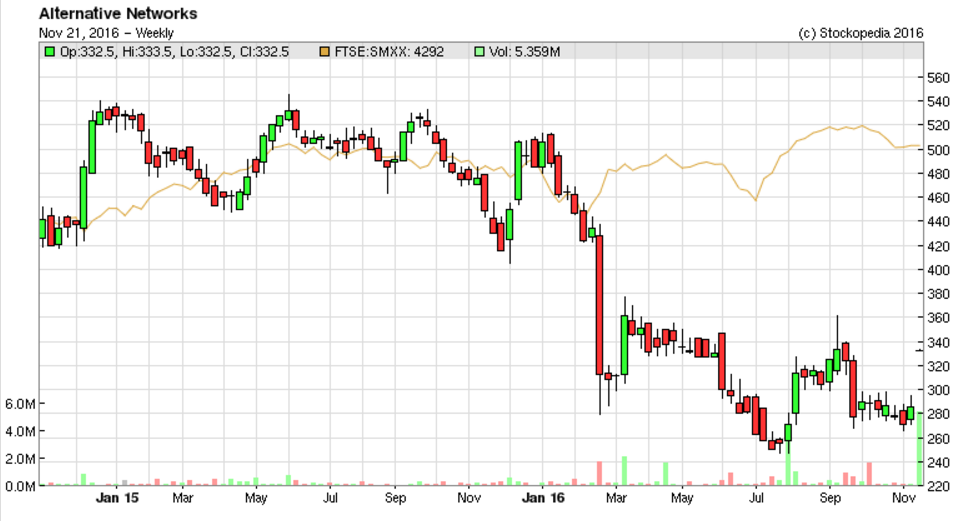 There again, it may be the case that previous levels of profit and cashflow could be unsustainable - which was the main worry that kept me away from this share.
As I reported here on 27 Sep 2016, forecast profits were falling. It was a mild profit warning. So perhaps the bid isn't such a bad deal after all?
This looks a done deal, as 57% irrevocable undertakings have been given. Remember that Institutions often welcome takeover bids, as it gives them an exit route from a position they may be stuck in & otherwise unable to exit. So their agenda may be different from private investors, who are able to move more easily in & out of small caps.
---
Searching the archive
A reader has just messaged me asking this;
Hi paul, thanks for your great posts. what's the mechanism if I want to search your posts for a specific company you many have written recently about…

Unlock the rest of this article with a 14 day trial
Already have an account?
Login here