Small Cap Value Report (22 Jan) - NWKI, CLL, TSTL, CAR
Good morning. People seem to like the new format, with clickable (through to that company's StockReport) headers, so I shall do that every day from now on.
Also please note that I'm spending all morning writing these reports now, updating them about every hour from 8 a.m., so if you keep this page live in a tab on your browser, refreshing it from time to time will ensure you don't miss anything! The email goes out at noon (see sign up box below this article), but I might still be updating it until about 2 pm, depending on how much news there is each day.
Recruitment group Networkers International (LON:NWKI) issues a trading update for the year ended 31 Dec 2013. It says that pre-exceptional profit before tax, and EPS should be in line with the Board's expectations (urgh, hate that phrase, why can't they say market expectations, like most other companies? We know what market expectations are, but the Board's expectations could be different, so it's a bit of a cop-out referring to the Board's expectations!).
Although they also note that Net Fee Income fell by 5% in 2013 (i.e. NFI = gross profit, which for recruiters is their fees excluding the wages paid to temporary workers, so it's the most meaningful measure of revenue the company has earned, as opposed to total revenue which includes the wages of the temps that they supply & hence recharge on to clients).
The reasons given for the fall in NFI are twofold - firstly that 2012 (surprisingly) was a record year, and secondly that there has been a (positive in my view) shift in NFI more towards permanent placements, as opposed to temps. I think that is positive because the profit margin is higher on permanent placements, whereas supplying temps is very competitive, with clients squeezing out profit margin by playing recruitment companies off against each other.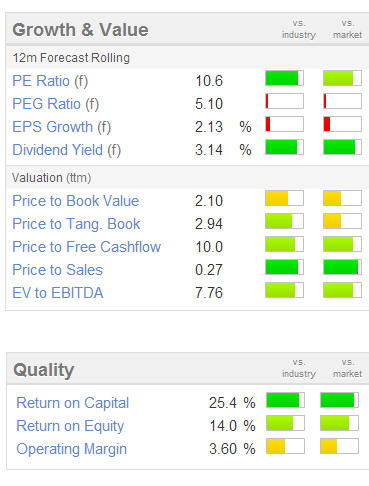 It's valued at a market cap of £41.2m, at 50.5p per share, which has enjoyed a re-rating of about 46% from the 34.5p low six months ago. Is there more in the tank? Quite possibly, as the forward PER is only 10.6, with a 3.14% dividend yield, and they carry little debt…

Unlock the rest of this Article in 15 seconds