Small Cap Value Report (22 Jul 2016) - LAKE, INL, SPRP
Good morning!
I had a rip-roaring lunch yesterday with the CEO of Research Tree. It's a website that enables private investors to access broker notes - a hot topic which we've been debating here recently. Private investors rightly complain about being blocked from receiving broker notes, under some absurd regulation, which harms our interests instead of protecting them.
Well, here's a service that helps bridge that gap. I'm impressed with the website, and have taken a free trial. There are some good providers of research on the site, including N+1 Singers, and Finncap, and many others. They're hoping to add some more big name brokers shortly. It's handy to have research all in one place, so you just put in the company name, and up comes a list of what research is available. Well worth a look, I think.
Also, we have a special discount code, which gives 20% off annual, or 10% off monthly pricing. The code is "stockopedia". For the avoidance of doubt, I am not getting any commission for mentioning this! I'm just happy to flag up anything that looks useful for investors, and I think Research Tree is a good initiative, to help level the playing field for private investors, so I hope it is a success.
---
Share price: 29.25p (up 24% today)
No. shares: 157.5m
Market cap: £46.1m
(I hold a long position in this share)
Board changes - the share price has reacted very positively to news that Bob Holt is joining the Board, as Executive Chairman. Googling his name, I see he seems to have been the founder of Mears (LON:MER) - which is big in providing outsourced services for social housing - so highly relevant experience for Lakehouse.
Ric Piper is stepping down from Chairman to NED.
I think there's a decent underlying business here. Although there's a nagging doubt that it might have one more profit warning in it, possibly?
---
PMI data
There's been a sharp deterioration in PMI data today, which is forward-looking, hardly a surprise given the impact of Brexit, and the uncertainty that has created. So the only question remains how long & how deep this downturn will turn out to be.
Interestingly, the mid caps index has barely moved today, so it seems that the market is already pricing in a downturn.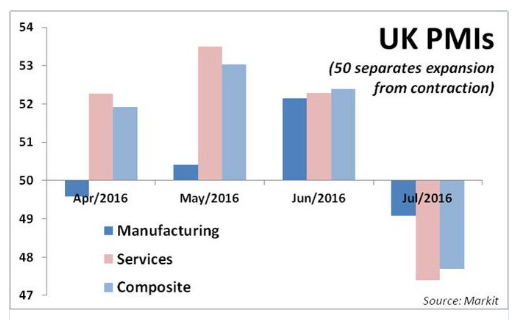 Unlock the rest of this Article in 15 seconds