Small Cap Value Report (22 Sep 2014) - TUNG, MPOW, MOSB
Good morning!
Share price: 380p
No. shares: 103.5m
Market Cap: £393.3m
If I had to pick my favourite more speculative share, then this would be it. Tungsten has bought an e-invoicing company, and a small bank, and the combination will be used to finance the supply chains of large corporations & Governments. It's work in progress so far, but the idea is brilliant, and looks do-able, given that they already have many blue chip clients using the e-invoicing system. Financing their customers supply base is the next step.
There's an AGM update today, which helpfully recaps what the company has achieved this year.
Two things I note from today's update. Firstly, that current trading sounds good;
This has helped to underpin a strong start to the financial year for Tungsten Network and as a result the Group is ahead of budget for the first four months of FY15. As we have from inception, we expect this year to be a year of heavy investment and transition in the rollout of our products and services.
Secondly, when the company mentions negotiations to raise financing for their invoice discounting activities, the previously-used phrase of something like, there can be no guarantee that funds will be successfully raised, has been omitted this time. Does this mean management are more confident about raising the money needed? Possibly.
How to value it? Absolutely no idea! Seriously, it's the type of situation that is pretty much impossible to value at the moment. If it works, then the company could be worth billions. If it doesn't, then who knows? There could be a series of fundraisings, and little commercial progress made, we'll just have to wait & see. I was very impressed with the level of Director participation in a small recent Placing, they stumped up a couple of million quid, not something you see very often.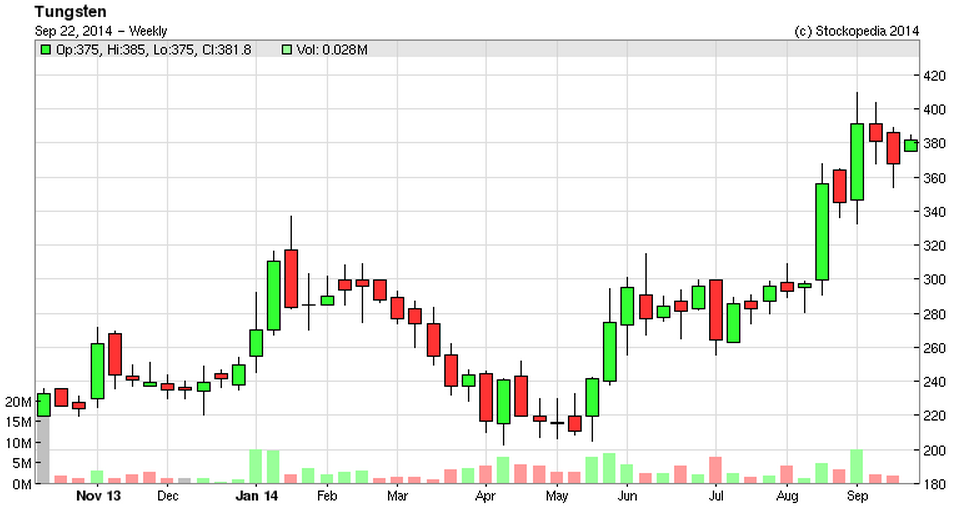 ---
Sorry for the interlude, we've got the carpet cleaners in, and I couldn't hear myself think.
Share price: 7.65p
No. shares: 15.9m
Market Cap: £1.2m
This probably deserves the award for biggest car crash IPO of the year. Not one of N+1 Singer's finest moments (ranking alongside their change of name decision perhaps?). MPOW actually floated in late 2013, with inadequate cash resources, and as it now transpires a rather flaky business plan.
I flagged up concerns over…

Unlock this article instantly by logging into your account
Don't have an account? Register for free and we'll get out your way
Disclaimer:
As per our Terms of Use, Stockopedia is a financial news & data site, discussion forum and content aggregator. Our site should be used for educational & informational purposes only. We do not provide investment advice, recommendations or views as to whether an investment or strategy is suited to the investment needs of a specific individual. You should make your own decisions and seek independent professional advice before doing so. Remember: Shares can go down as well as up. Past performance is not a guide to future performance & investors may not get back the amount invested. ?>
---
---

Tungsten Corporation plc is engaged in e-invoicing, purchase order services, analytics and financing business. The Company's segments include Tungsten Network, Tungsten Network Finance, Tungsten Bank and Corporate. Its Tungsten Network segment includes e-invoicing and spend analytics business of Tungsten Network. The Company's Tungsten Network Finance segment includes the supply chain finance business. Tungsten Network connects buyers to their suppliers, enabling tax-compliant electronic invoicing. Its software translates and validates each supplier invoice, and allows suppliers to check invoice status online. All the users ' invoices are digitally signed, encrypted and stored within the Tungsten Network image archive, where the user can access them anytime. Tungsten Bank provides specialist banking products and services. It focuses on providing invoice financing solutions to small and medium enterprises (SMEs) in the United Kingdom, the United States and Europe. more »

LSE Price

mporium Group plc is a holding company for mporium Limited and Fast Web Media Limited. The Company is a mobile first technology firm that monetizes the transformation that smartphones have had on consumer behavior. The Company provides Software-as-a-Service (SaaS) and supporting services. The Company is in the process of developing two products: impact and insights. The mporium impact is an advanced digital advertising platform. The mporium impact works for digital advertisers and their agencies. The mporium impact uses the stimuli that television content provides and generates the associated synchronized consumer digital activity. The mporium insights product provides enterprise level technology to the small and medium sized enterprise (SME) market. The mporium insights offers e-commerce analytics, customer segmentation, and real-time customer data, which include trend-based Web traffic reporting. more »

LSE Price

Moss Bros Group PLC is engaged in retailing and hiring formal wear for men. The Company operates through Moss Bros branded mainstream stores. The Company's segments include Retail and Hire. The Company offers various types of suits, skirts, jackets, trousers, coats, casualwear, ties, shoes and accessories. The Company offers clothing and accessories for various occasions, including weddings, prom, race day suit, tuxedo and black tie, interview attire and graduation. The Company also trades through Savoy Taylors Guild fascia. It has approximately 100 Moss Bros and Savoy Taylors Guild branded stores and over 20 Moss Bros outlet stores, which trade Moss Bros own brands and selected third-party brands, including Hugo Boss, Canali, Ted Baker, DKNY and French Connection. The Company has approximately 120 Moss Bros Hire outlets, which are contained within Moss Bros Retail and Savoy Taylors Guild Stores. The Company's sub brands consist of Moss London, Moss 1851 and Moss Esq. more »

LSE Price