Small Cap Value Report (23 Oct 2014) - EPO, SEPU, BMY, FOXT, PTCM
Good morning!
Share price: 44.5p
No. shares: 475.7m
Market Cap: £211.7m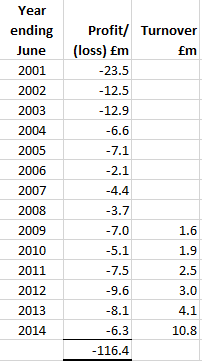 This company has a staggeringly bad track record. It has raised money from shareholders more times than anyone can remember, and has been loss-making every year since it was created. Not just a little bit loss-making either. I thought it would be fun to look back and collate the losses since 2001, and they look like this (see spreadsheet on the right).
Turnover has been rising in recent years, but it really doesn't matter because losses have stayed the same. So they could just be recirculating payments through the system to generate more revenue, it's meaningless unless they actually make a profit.
More recently, turnover has been bought in through acquisitions, to (in my view) mask the fact that the legacy business is going nowhere.
Over the years there have been numerous big fanfare deals announced with major banks, etc, and none of it has ever created anything of commercial value.
Yet the market keeps coming up with new enthusiasts to pour money into the company, and on it goes. All this company actually is, is a collection of bank accounts in multiple countries, and small payments are made for clients across borders by grouping them together, and making a single bulk payment. The payments are then broken down at the other end and paid out to the people they are intended for.
The only usefulness of this, is that it saves clients the bother of opening up numerous foreign country bank accounts. Since Earthport kindly operate this service running at a permanent loss, then it's no wonder that some clients take advantage of that by using Earthport instead of managing their own cross-border payments in-house.
None of which has ever sounded even remotely like a viable business to me. The market cap of £211.7m is beyond insanity in my opinion.
Final results - for the year ended 30 Jun 2014 are published today. The company trumpets 161% growth in turnover, to £10.8m, although note that most of the growth has come from an acquisition.
The underlying loss before tax didn't fall, it actually rose slightly to £8.6m (2013: £8.1m). This is masked somewhat by a £2,274k foreign exchange gain, bringing the reported loss before tax down to £6.3m.
Balance Sheet - it is rapidly burning through the cash, with £9.1m remaining…

Unlock this Article with a 14 day free trial
Already have an account?
Login here