Small Cap Value Report (24 Feb 2017) - RMV, BJU, COA, PURP, TBCG
Good morning!
Paul is off today. I'm planning to cover Rightmove (LON:RMV) and anything else that pops up or is requested in the comments. Let me know what looks interesting to you.
Best regards
Graham


---


Share price: 4065p (-4.2%)
No. shares: 93.1m
Market cap: £3,785m
The market was more than a little disappointed with this announcement at first.
It's obviously a highly rated stock, which makes for volatility even when results are quite positive: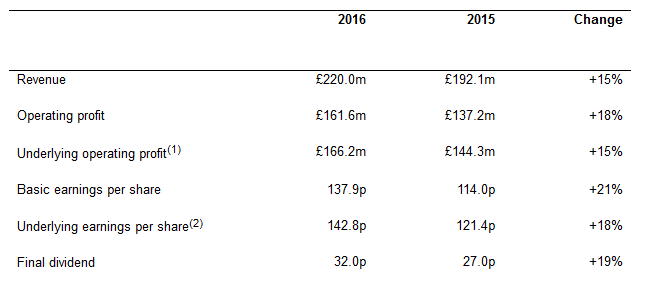 Annual percentage revenue growth over the past six years has been within an 11%-23% range, and the last three years have been 17%, 19% and 15%, so today's result is nothing special in that regard.
The operational highlights are fairly impressive, including the claim that Rightmove has a third more residential properties than any other portal. The CEO claims it is "the only place you can see almost the entire UK property market", and appears to have some justification in this claim, despite well-publicised moves by competitors in recent years.
I've tended to think that Rightmove deserved its premium rating in recent years, and that remains the case for me now.
It looks really shareholder-friendly too, with £131 million having been returned to them this year. I'd just have a slight concern about the mix of buybacks within that - I'll need to find out what the rationale wasfor including £88 million of buybacks. They must think the shares are good value at an average price of £40 each!
CEO retirement: This explains why the shares were so weak on the open. The co-founder CEO is retiring after 16 years. He'll be replaced by the COO, who is also highly experienced at Rightmove. See separate RNS.

Outlook: Nothing specific in the outlook statement, just that the BoD is "confident of continued success in 2017".

ARPA: This is a slightly unusual argument and I'm not sure how it works exactly. Rightmove says that the average revenue per advertiser per month for newspapers was £2,500 in 2007, while Rightmove's ARPA today is just £842 per month. While I'm sure that ARPA growth is possible, I don't see the relevance in terms of what newspapers were doing back then!

Commercial property: Rightmove claims to have 86% market share among the top 3 commercial property portals.…

Unlock the rest of this article with a 14 day trial
Already have an account?
Login here