Small Cap Value Report (24 Jul 2017) - MCLS, STHR, DIA, TUNG, QXT, TMMG, EPO
Good morning!
---
Share price: 206.4p (-0.8%)
No. of shares: 115 million
Market cap: £238 million
Interim Results for 26 weeks to May 2017
I took my eye off the McColl's share price for a while, and it's been roaring ahead, up nearly 60% versus the low last July.
It's a national chain of "neighbourhood retailers" - 1,292 convenience stores and 358 newsagents.

Performance appears to be perking up. Life-for-like sales fell last year by 1.9%, but are stable for the latest H1 period, and up 1.4% in Q2. Good weather played a role in this (and it's refreshing to hear weather used as a positive excuse for once!)

Gross margin improved last year, and improves a bit more to 25.4%, due to a higher mix of convenience stores (selling more fresh food and groceries) rather than newsagents.

The company has got a lot bigger thanks to taking over 298 sites from the Co-op. These new stores are all trading now and early performance is in line with expectations.
However, profitability has not improved much despite the increased size, higher sales and improved gross margins.
Even if you add back exceptional costs and store pre-opening costs, you only get a PBT of £8.1 million, down from last year's £8.2 million H1 result.
In addition to the pre-opening costs, the CEO says earnings were "held back by continuing cost pressures due to legislative wage inflation". That's a big issue for the sector and one that is likely to continue to hurt for the foreseeable future, in my view.
Outlook statement is balanced. Interim dividend is unchanged.

My opinion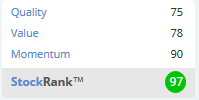 As you can see from the graphic above, McColl's doesn't have a bad rating!
Indeed, on the financial metrics, it's looking very good - cheap, consistently profitable, and growing.
When you think in terms of competitive advantage, however, it's hard to come up with too many except for sheer scale. It has arguably reached a size where it can negotiate increasingly favourable deals with wholesalers, and indeed it is currently in the process of tendering out those major contracts again.

There is also the small matter of £135 million in total borrowings, resulting in £110 million of net debt, or nearly half the market cap.

So there is an element of…

Unlock the rest of this Article in 15 seconds
Already have an account?
Login here