Small Cap Value Report (24 Jun) - PRV, CHRT, CAMB, ALL
Good morning. Should be another interesting day today, with the FTSE 100 futures indicating a lower open, 30 points down. US markets bounced strongly on Friday, but have given up almost all of those gains overnight, so it's not really clear whether the significant market falls lately will continue or not. I remain of the view that this is a healthy & necessary correction to valuations, which had clearly become stretched.
Interim results from Porvair (LON:PRV) look pretty good, with turnover up 8% to £38.6m, profit before tax up 27% to £3.1m, and EPS up 23% to 4.9p. There seems to be an H2 weighting to their trading, based on last year's figures, so it looks to me as if they are heading towards perhaps 11-12p EPS for the full year this year? Broker consensus is 11.4p EPS.
Therefore at 296p the shares are on a very warm PER of 26 times! That looks far too high to me, and I cannot understand why the market took them up another 50% in the last three months, from a price of 200p where they already looked fully valued? It's a smashing company, but the shares are over-priced now in my opinion at 296p.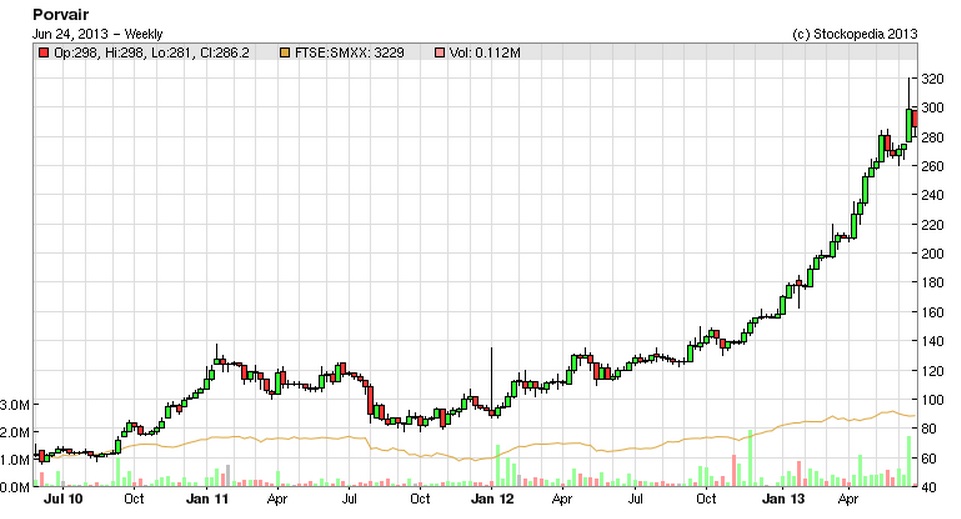 Next I am reading the results from Cohort (LON:CHRT) which look very good, considering its modest valuation of £56m market cap at 140p per share. I almost bought some of these a few months ago, but didn't quite have enough confidence to hit the buy button, at around the current price.
Turnover for the year-ended 30 Apr 2013 has come in well below expectations, at £70.9m (Stockopedia broker consensus shows £75.6m). Despite that, EPS forecasts of 14.4p have been beaten considerably, at 17.94p. So the shares look to be on a modest PER of just 7.8 times. That looks even more interesting when you consider that the company has £16.4m in net cash too. So at first glance these really do look cheap, I shall do some more digging.
Right, to update on Cohort, I've taken the plunge and bought a few at 150p, as based on these numbers out today, I cannot see how a valuation below 200p makes sense. Even if you only put it…

Unlock the rest of this article with a 14 day trial
Already have an account?
Login here