Small Cap Value Report (24 Mar 2014) - SAL, ABM, DX., INSE, DPP
Good morning! It's scheduled to be a very busy week for results and trading statements, so here we go.
This is one of my favourite long term shareholdings, for a number of reasons - the ones that spring to mind are its excellent track record of growing EPS and dividends (see Stockopedia graphical history below), dominant in a small niche (managing promotions and kiosks in shopping centres, railway stations, etc), entrepreneurial management with plenty of skin in the game, barriers to entry for potential competitors, and a valuation that still looks reasonable.
As regards the last point, I think we've probably now had the re-rating from ridiculously cheap to sensibly priced, so I'm not expecting any further major re-rating of the shares in the short term. Longer term though, I think there is every reason to anticipate steady share price appreciation, and of course continued decent dividends. So with patience, the overall return should be good, in my opinion, but maybe not exciting enough for short term traders who are always looking for the next multibagger!
I have done well buying the dips with this share over the last year, as it's still fairly illiquid, so when someone with a lot of shares wants to sell, the opportunity sometimes arises to pick up some stock at a 10-20p discount. This should be a fairly safe strategy, as most of SAL's revenues (and costs) are recurring and hence predictable, so the chances of an unexpected profit warning are slim, and even if one does happen, it shouldn't be a big miss.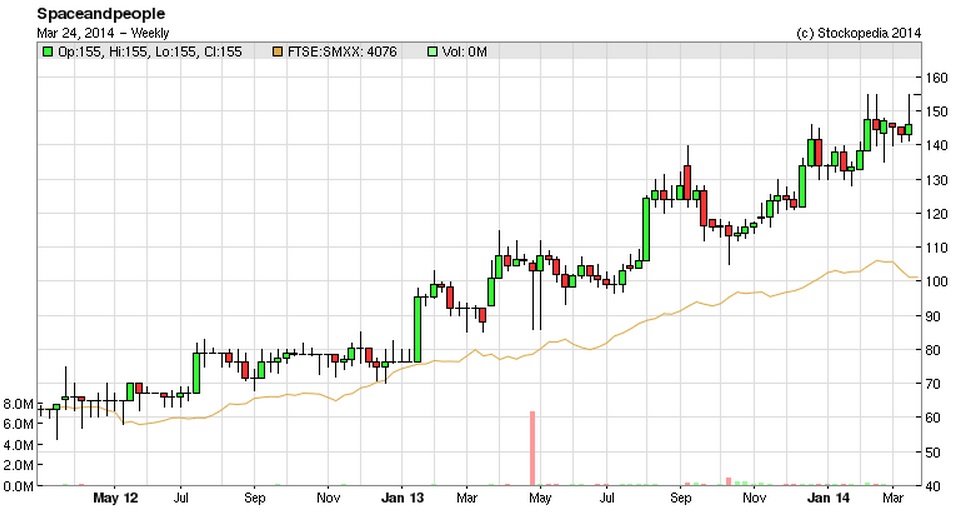 Turning to calendar 2013 results from Spaceandpeople, it all looks fine to me, as expected.
The key numbers are nearly all up between 10-20%. I tend to focus most on diluted EPS, which is up 15.4% to 8.98p, although some investors might be happy to base a valuation on the basic EPS of 10.11p. Note that there's quite a noticeable difference between the two EPS figures, which is due to an unusually large number of share options here for management and employees. So at 145p per share the PER is 14.3 times basic EPS, and 16.1 times diluted EPS. That's probably priced about right for the time being, in my view, although of course that valuation…

Unlock the rest of this article with a 14 day trial
Already have an account?
Login here