Small Cap Value Report (24 Oct) - CSG, TRCS, GBO, BMY, MLIN
Good morning! Some companies seem to constantly deliver bad news, and your heart sinks before you've even started reading their latest trading update. Whereas others just deliver a steady flow of good news, and the shares are a pleasure to own, as you wait for the re-rating. If you can find the latter still at a reasonable price, then that is the proverbial needle in the investing haystack.
Sweett (LON:CSG) is, in my opinion, just such a share. I've written about this share five times so far this year, but hesitated too long, and only bought shares in it after they had already doubled, which is always very difficult to do. I belatedly pushed the buy button on 30 Aug, at 42p, and explained why here.
Today's trading upate, in advance of its half year results to 30 Sep 2013, follows the usual pattern of out-performance. Sweett indicate that all their international operations are trading well. This is the key part of today's statement (my bolding);
As a result, the Board anticipates that the Group's results for the year ending 31 March 2014 will be slightly ahead of management's expectations. Furthermore, the full year profit before taxation will also be increased by the £1m referred to above. Our efforts to achieve the objectives of our 3 year plan of turnover growth and margin improvement remain firmly on track.
Incidentally, the £1m referred to is a one-off gain on the unwinding of a currency hedge.
Here is the usual Stockopedia graphic that I like so much, as so much information on trends can be gleaned from these five simple performance graphs. In my opinion, access to these graphics alone is worth the annual subscription, as it saves me so much time when researching & gives me excellent insights;

So what can we tell from these graphs? That turnover is trending upwards, that profit margins are fairly slim. Apart from a bad year in 2012, the company has been fairly steadily profitable - not bad considering their markets have generally been depressed over this period (they are a construction consultancy, quantity surveyor). The PER has generally been low over this period, and it has consistently paid dividends.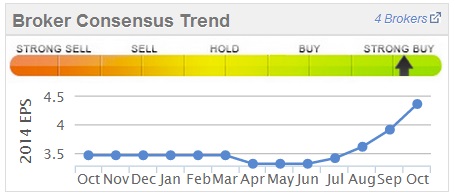 Given the steady stream…

Unlock the rest of this Article in 15 seconds