Small Cap Value Report (24 Sep) - HSP, DSG, TAST, DPP, RGS
Good morning. Lots of results today, which I will have to really belt through, as I have to be on a train for London by 10:30 this morning, for a company meeting. My diary is packed for the next 3 weeks, with in total meetings or presentations from 18 companies scheduled (some in groups, such as the ED and ShareSoc investor evenings), so it's going to be pretty manic trying to take in all of that! But it's what I enjoy doing, so bring it on! I find the more companies' management you meet, the better you get at sorting the wheat from the chaff. Or at least spotting the better risk/reward opportunities, might be a kinder way of putting it.
The company I am seeing for an analysts lunch today is £270m market cap Hargreaves Services (LON:HSP) - they operate some UK coal mines, and are a distributor of coal & coke, haulage, etc. The reason I'm interested in seeing this company is because they seem so cheap on a PER basis. At 806p the shares are indicated by Stockopedia to be on a forward PER of just 6.3, and with a 2.7% dividend yield. The Balance Sheet has some long-term debt, but it's not excessive at all, with net debt reported at £77.9m as at 31 May 2013.
Figures issued this morning are for the year ended 31 May 2013, and show turnover up a whopping 36% to £843m, and continuing underlying profit before tax up 5.9% to £52.2m. Looks like there are some one-offs due to problems at one of their colieries, but this has been known about for some time.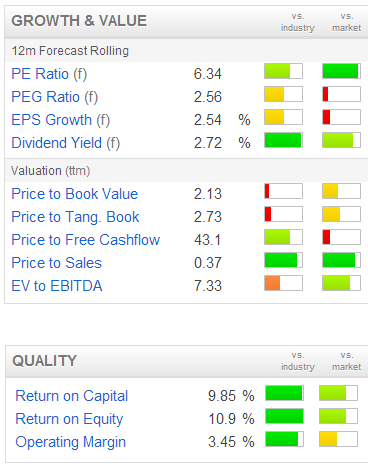 From a Google search, I can see that the price of coal seems to have shot up in recent years, so presumably that is driving things. Continuing underlying EPS is reported at 134.6p, with a 20.5p dividend, which both look a little ahead of expectations. I don't know anything about the coal sector, and obviously given its history of decline, have always assumed that it's moribund in the UK, but maybe not? In any case, I think most of HSP's profits come from parts of the business other than production.
If any readers have looked at this company, and understand them, then do please…

Unlock the rest of this Article in 15 seconds
Already have an account?
Login here