Small Cap Value Report (25 Feb 2015) - TUNG, AO., COMS, TSTL, RTC
Good morning! I have to rattle through things this morning, as there's still some more preparation to be done for the ShareSoc Masterclass this afternoon, where I've been asked to join a panel and talk about one of my favourite topics - balance sheets!
After the shorting attack, this stock appeared to be bouncing yesterday, so I tentatively dipped my toe back in the water at 150p (more as a short term trade, for a bounce, rather than me having particular confidence in the company longer term). They closed at 160p last night, so far so good. I thought it likely that the company would put out an update to the market, given the big share price decline, and they did - but I'm afraid it seems a damp squib to me - market update: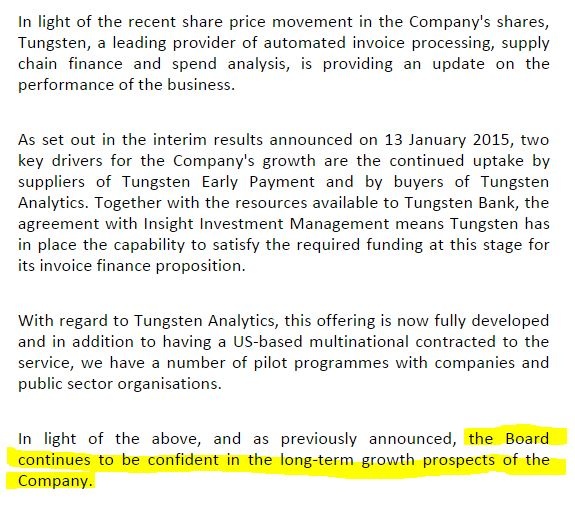 My opinion - as reported yesterday, I have listened to the bear arguments on this share, and whilst some seem irrelevant, others do resonate - especially concern over what take-up there is likely to be for the invoice discounting service. I suspect the target of 10% of all invoices flowing through their system might prove to be wildly optimistic, but that's just my hunch.
I ditched my trading position (opened yesterday at 150p) in the opening auction this morning, at breakeven, so am now back safely on the sidelines, and will watch developments with curiosity. Will the share price go up or down? I have absolutely no idea, that's entirely driven by market sentiment (since this company is impossible to value reliably on fundamentals at this stage), which can ebb and flow unpredictably. Although I suspect there might be more downside from the current price of 147p unless TUNG is able to put out a much more convincing rebuttal re the shorters. There again, other companies which put out detailed rebuttals of shorting attacks have found that it just opens up an even bigger can of worms. So perhaps ignoring it & letting the figures do the talking in due course is the best course of action from the company?
I suspect TUNG may need to raise more share capital, given the large short term losses it is incurring to bring new clients on board.
---
A profit warning this morning has whacked the…

Unlock the rest of this article with a 14 day trial
Already have an account?
Login here