Small Cap Value Report (26 Mar 2015) -SAA, SFE, POS, TMMG
Good afternoon. Lots of results today, so I'll get through as many as I can.
Share price: 349p (down 3.8% today)
No. shares: 70.7m
Market Cap: £246.7m
Final results - for calendar 2014 are out today, for this well known PR group.
Profit & loss account - doesn't look too good at first glance, but I see from the cashflow statement that there were about £7m in non-cash charges for impairment of goodwill, and amortisation of intangible assets. So there's a big difference between statutory profit before tax of £6.2m, and headline profit before tax of £17.1m.
Note 3 to today's accounts gives the reconcilation from statutory profit on the left, working through the various adjustments to adjusted or "headline" profit on the right. These seem reasonable adjustments to me, to arrive at the underlying performance of the business in the far right hand column below.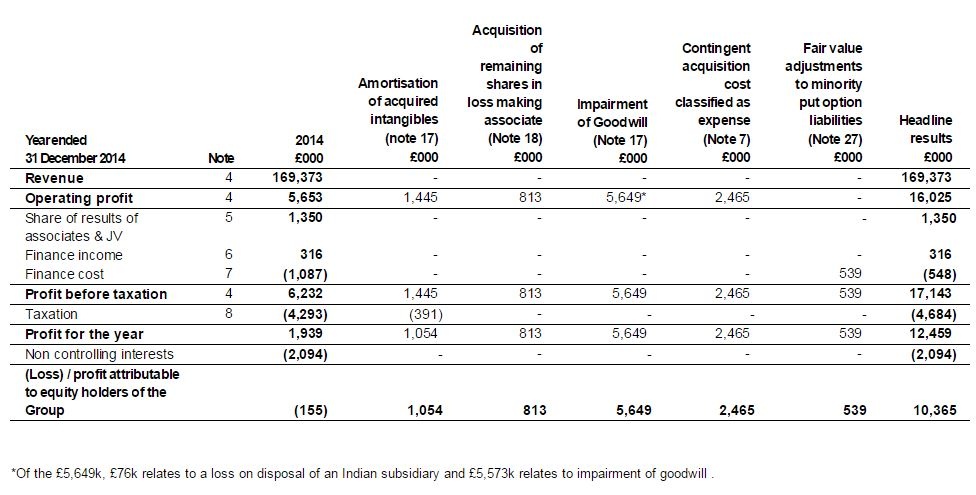 Growth - having established that I am happy with the company's definition of headline profits, there is impressive growth in headline profitability - EPS rose 28% to 15.88p (slightly ahead of broker consensus of 15.5p)
Valuation - at 349p per share the PER is too high for me, at 22 times. Although it depends what future growth is going to be like. If the company can carry on growing EPS at 28% p.a., then a PER of 22 would be justified.
The narrative today talks about a lot of impressive, big name client wins, such as Land Rover, John Lewis, Foot Locker, BMW, and Douwe Egberts.  From what I can gather, the growth in profits seems to be mainly organic, rather than by acquisition - one acquisition is mentioned, Lean Mean Fighting Machine Ltd (good name!)
Balance sheet - here's another one where the company says it has a strong balance sheet, but actually doesn't. Its net assets of £35.9m reduces to only £6.8m once intangibles are removed. The current ratio is 1.01 - only a whisker above my cut-off of 1.0 for companies which don't carry inventories (I use 1.2 for companies that do use inventories).
Year end net cash was £5m, but I reckon that's probably window-dressed for the year end, as the balance sheet shows cash of £23.4m, and financial liabilities of £18.2m, so if you had that as a permanent position, you would pay off the financial liabilities using the cash. The…

Unlock the rest of this Article in 15 seconds