Small Cap Value Report (26 May 2017) - VLE, PLA, SDI
No. of shares: 4.1 million
(Please note that I currently hold a long position in Volvere)

I don't get to use the above disclaimer very much, because my personal portfolio is recklessly undiversified. I only own nine stocks, and the top 5 currently account for 75% of everything (or 79% if you exclude cash). Volvere is a top 5 holding for me.
I bought into it when I discovered it a year ago, and you can find my article on it at this link (external website).

It's an investment company, which typically seeks out unlisted companies which are in need of change - often a change in their financial structure (removal of bank debt) or occasionally a change in strategy/management. It's a supportive shareholder, not a raider or an asset stripper.
It only holds a few investments at a time, and currently has 3 in its portfolio.
Two brothers are the key executives. They own 25% and 13% of shares, respectively.

Today's Results

These results are for the year ending December 2016 - admittedly, slow reporting.
But they're rather good: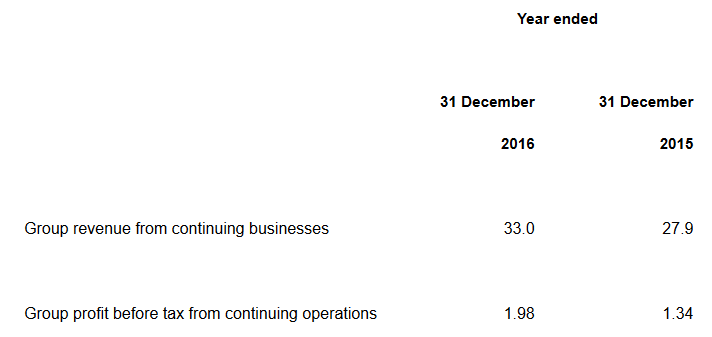 As a consequence of the above, NAV increases to 617p from 569p. That's an increase of 8%, below Volvere's prior long-term average of 15%.

NAV moves in mysterious ways, however. Because Volvere's holdings are unlisted, they are held on the balance sheet at the price originally paid for them, and they only increase NAV by their net profit contribution to the group every year. But if they are sold after profitability has improved, then you can get a sudden jump in NAV (as the underlying gain in value is realised).
Last year, NAV increased by 32%, as an investment was disposed of after its profitability had improved.
This year, there has been no disposal, but PBT has significantly improved, as you can see in the table above.
Shire Foods, previously the largest contributor to profits, lost a large customer and saw margins increase as a consequence of the Sterling devaluation, and PBT reduced from £1.6 million to £1.15 million (before the charges Volvere makes for managing it and lending to it).
The big winner, however, was the new holding Impetus Automotive, a…

Unlock the rest of this Article in 15 seconds