Small Cap Value Report (26 Nov 2014) - FCCN, HRG, CAKE, SRG
Good morning from Las Vegas! My body clock is all over the place at the moment (arrived here yesterday afternoon), so thought I might as well write a SCVR, seeing as I'm wide awake at 3:30am local time!
I'm staying at the Vdara Hotel, in a corner suite on the 53rd floor, so am literally looking down on the Bellagio, with a spectacular panoramic view as I'm typing this. What a tacky city! All good fun though.
---
Share price: 56.5p
No. shares: 95.9m
Market Cap: £54.2m

Trading update - covering the three months to 31 Oct 2014. The market likes it, as the shares have put on about a 10% spurt this morning.
As you would expect, the exceptionally mild autumn weather has impacted sales in the problem UK/Europe retail division (which racks up big losses). Sales are down 5.7% on a like-for-like basis vs last year (for the 17 weeks to 22 Nov 2014). However, gross margin is strongly up, being 240 basis points higher.
I've done some rough calculations to ascertain how a 5.7% sales drop combines with a 2.4% increase in gross margin percentage, and I reckon it translates into a 2% drop in gross profit. So in other words, the increased gross margin offsets almost two thirds of the drop in sales, so not a bad result considering everything.
The wholesale business has performed a lot better - with a 9% increase in sales against last year, and the spring 2015 order book is described as "strong". Global licensing revenue is also referred to positively.
Net cash, at a seasonal low, is £8.7m, so I imagine that will be back up to nearer £25m by the 31 Jan 2015 year end - almost half the company's entire market cap.
With tight cost control, the company reiterates that it should meet full year guidance, which is as near as dammit to breakeven.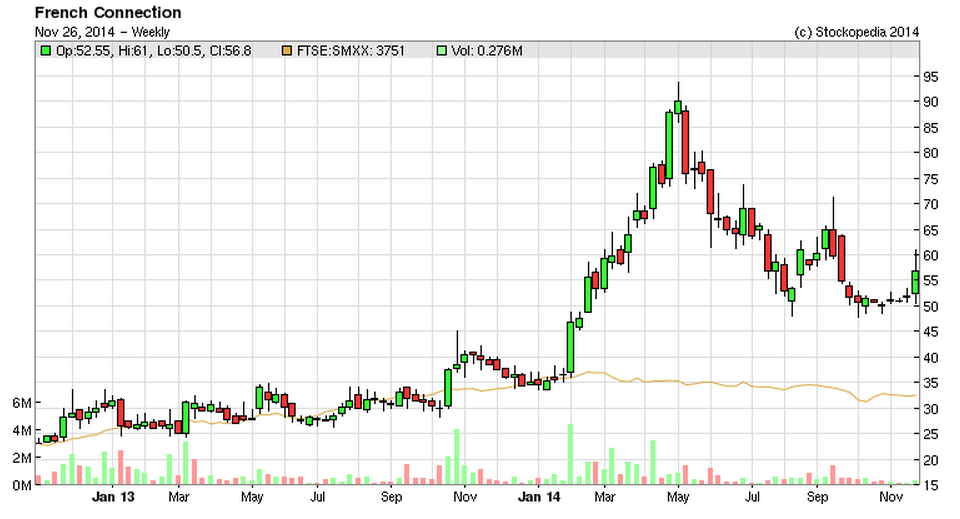 My opinion - I remain of the view that this is an interesting risk:reward situation. The downside is protected by the bulletproof Balance Sheet. The upside could potentially be exciting, if the turnaround develops further. The business has been stabilised, and the heavy losses made in the retail division are likely to melt away in the coming few years, as leases expire on loss-making units. So even if underlying performance doesn't improve further, just closing loss-making shops will…

Unlock the rest of this Article in 15 seconds
Already have an account?
Login here