Small Cap Value Report (27 Nov 2015) - FRP, CAKE, RSTR, CFYN
Good morning!
I'm conscious that my reports this week haven't been up to scratch, so I'll try to do a half decent one today, before I head into Soho for lunch & a brainstorming session with the boss!
---
Share price: 173.5p (up 3% today)
No. shares: 45.6m
Market cap: £79.1m
Response to Autumn Statement - as we know, earlier this week George Osborne announced the Govt's intention to clamp down on whiplash claims, and the like. This sounds like it could have a major, negative impact on the various ambulance-chasing claims & legals firms which have been profiting from this area.
This reinforces just what a lucky escape Quindell (LON:QPP) shareholders had. Not only was accounting fraud uncovered at the company (no surprise to those of us who had properly scrutinised the company's accounts, and found numerous red flags over the years), but also it now seems that its core business would be under serious threat from these Government proposals.

Indeed, you only have to look at the hapless (or should that be hopeless?) Aussies that bought Quindell's main operations, Slater & Gordon. Look at its share price, since they inexplicably paid £600m for Quindell's main business, despite the seller clearly being in financial distress.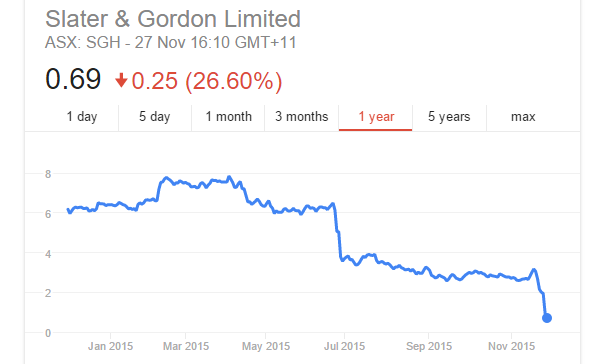 It's down over 90% , and Tom Winnifrith (who did sterling work in exposing the various accounting frauds at Quindell) reckons that it's heading for zero. I don't know about that, but it certainly shows just what a minefield this personal injury legal claims space is, and reinforces my view that the whole sector is probably best avoided at the moment.
Anyway, getting back to Fairpoint (LON:FRP) let's have a look at what their statement says today.
Fairpoint Group plc ("Fairpoint" or "the Group"), one of the UK's leading providers of consumer professional services (including consumer legal services), notes the comments made by the Chancellor in yesterday's Autumn Statement regarding personal injury claims. The Government's outline proposals, which remain subject to consultation, seek to restrict the ability for sufferers of minor whiplash injuries to claim compensation. The expected implementation timetable is April 2017 following a period of consultation in which the exact nature of the proposals will be defined.  As such the proposed changes will have no impact on the…

Unlock this Article with a 14 day free trial
Already have an account?
Login here