Small Cap Value Report (28 Aug 2014) - XAR, MLIN, KMK, OFF
Good morning!
Xaar (LON:XAR)
Share price: 440p
No. shares: 76.4m
Market Cap: £336m
I dropped SCVR coverage of this innovative industrial printhead manufacturer last year, as the shares shot up, taking its market value into mid cap territory. However, after a series of profit warnings (another one today) it's coming back into range, indeed it's a stock that I already hold, having seen value at around 500-550p, based on its strong Balance Sheet with plenty of cash, and a PER that was in the low teens at the time.
The catalyst for my initial buys was the R&D Director spending £200k buying stock - which clearly indicates that he must feel confident about the new products due for launch over the next year, which seem to have potential to be game-changing (allowing inkjet printing directly onto any shape, such as bottles, without the need for a label). I am guessing that more Directors buys could be likely now interim results have been published today.
Averaging down - In my view this morning's initial 25%+ drop in share price was a considerable over-reaction, so in my opinion was a buying opportunity on the opening bell. People say that averaging down is a losing strategy, but personally I've found it can be a highly successful strategy, but only if you are certain that the difficulties triggering the profit warning are of a temporary & recoverable nature, and only if you're prepared to hold for a while, riding out any further price weakness. Averaging down on a stock that is fundamentally going to pot, or is a stale story stock, is of course a disastrous strategy, so great care is needed!
Interim results - As you can see from the headline "adjusted" figures below, taken from today's interims, both turnover & profits are down - the main reason for this is because of increased competition in their main market of printheads for ceramic tile manufacturers. Although this is a known factor, and a broker says this morning that the interim results were in line with expectations. 2013 should really be seen as a spectacular one-off year of growth, which is not sustainable;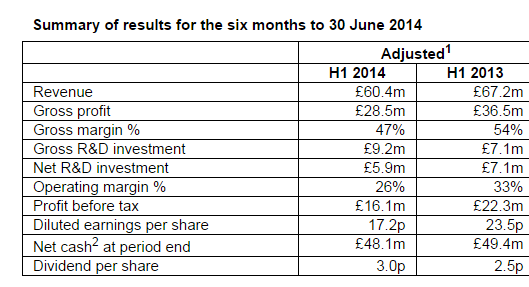 Outlook - the long-term prospects sound good (and bear in mind that only something like 3% of potential industrial printing has made the move from analogue to digital, and that the technology is being…

Unlock the rest of this Article in 15 seconds
Already have an account?
Login here