Small Cap Value Report (28 Jul 2017) - G4M, RMV, QUIZ
Hi there! It's Graham reporting for Friday.
---
Share price: 714p (-13%)
No. of Shares: 20.9 million
Market cap: £149 million
AGM Statement and Trading Update
This has been heavily covered by Paul over the past year or so, but I will pitch in here with a few comments on today's trading update.
Performance for the year to date is in line with expectations.
But the shares are off for a reason, or perhaps multiple reasons.
Given the track record of exceeding expectations, perhaps merely being "in line" isn't good enough anymore?
There is no getting away from the fact that the share became very highly rated by any standard valuation measure, in comparison with short term profits.
And now those short-term profits are going to impacted by upfront costs associated with the growth plans.

These comments might have been received in a calmer way by investors in a share at a normal valuation:

As previously outlined, the current financial year is expected to follow a more typical seasonal trading pattern, with a higher proportion of sales and profits being generated during the second half of the year than was the case in the previous year.

Also, as previously notified, the first half of the current financial year will include the costs of embedding our new European distribution centres and setting up our recently acquired Head Office in York. Based on the overall performance of the business during the financial year to date, the Board is confident of another year of good progress."
Without applying any great leaps in logic, they are telling us not to expect very much in H1.

Edit: Last year's H1 was profitable to the tune of around £1 million in PBT, but now we know that this year's H1 is going to be affected negatively by more seasonality and by one-off costs.
I am not as familiar with G4M as my co-writer but I'd be very cautious about considering this for a long-term investment at the current share price.
EPS forecasts have been adjusted lower as follows: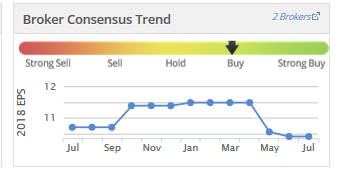 ---
Share price: 4293p (+0.3%)
No. of shares: 92.3 million
Market cap: £3,960 million
This property portal is well above our market cap remit here,…

Unlock the rest of this article with a 14 day trial
Already have an account?
Login here