Small Cap Value Report (28 Nov) - NRR, PGB, CRE, NGR, DGB, LTHM, PTO
Good morning. Firstly I've had a quick look at the interim results to 30 Sep 2013 from Newriver Retail (LON:NRR), which as regulars will know is a property company that I rate highly - with excellent, experienced management, and a good strategy to buy cheap shopping centres which they can improve through better management. It's a REIT therefore obliged to pay out 90% of its earnings as dividends. That has meant an attractive dividend yield for investors (forecast at 6.2% this year), however the downside of this approach is that the company has had to issue new equity to finance its expansion. So there is continuous dilution going on.
So despite profit growth of 60%, EPS has only marginally increased to 6.5p for the half year. The dilution has also had a negative impact on NAV. Despite increasing net assets substantially from acquisitions, the 115% increase in ordinary shares in issue means that NAV per share has actually fallen, to 222p. This compares with a share price of just under 260p, so that's a valuation of 17.1% premium to NAV, which strikes me as getting a bit warm. I would suggest that these shares probably need to take a breather, to allow time for NAV to catch up with the share price. As a long-term growth, and decent dividend paying share however, it remains attractive in my opinion. I would certainly buy back if the share price fell back to around NAV again.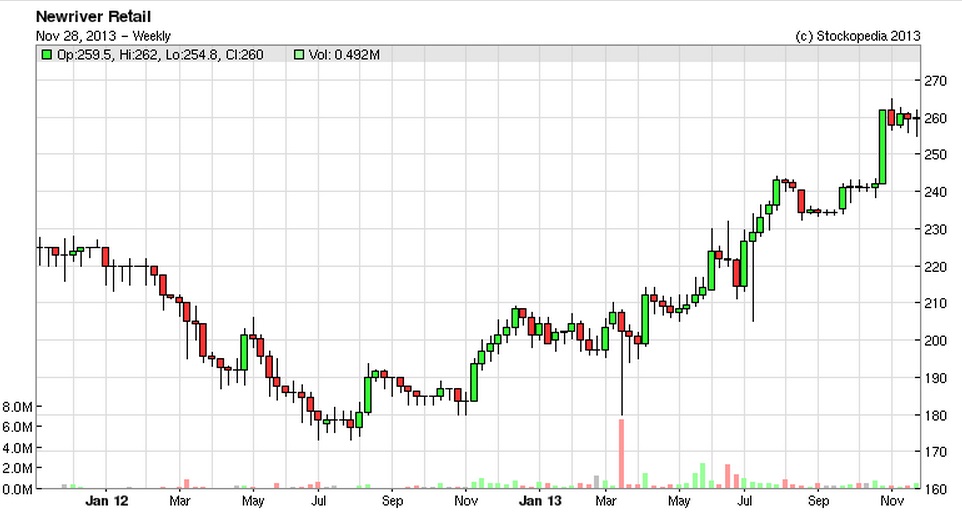 The upside should come from the company gearing up a bit more, and deploying the rest of the cash raised in July 2013. More property acquisitions are announced today, including £34.3m being spent on acquiring two centres, in Llanelli and Oxford, at an initial rental yield of 7.8%. Also, an interesting deal to acquire 202 Pubs from Marstons for £90m (so an average of £445k each), and gradually convert them into convenience food stores or restaurants. This looks a clever deal, as Marstons are guaranteeing the rent for up to four years, at an initial yield of a whopping 12.8%. This deal is being funded through a JV with an investment partner.
It's a reminder of the fundamental problem that Government policy is having on Pubs in Britain - i.e. that it is so expensive to buy drinks…

Unlock the rest of this article with a 14 day trial
Already have an account?
Login here