Small Cap Value Report (29 Apr 2014) - WLF, UTW, WGB, LID, DSG, WINK, INCA, CTG
Good morning!
This semiconductor maker has had a dismal few years, indeed it hasn't made a profit since 2008. I've been vaguely monitoring the shares for signs of a possible turnaround, as there can be exciting upside with this type of company if they develop new products that take off. Also it spends a remarkably high percentage of turnover on R&D, which can also be very positive.
Its Q1 results today look poor to me. However, of more importance is that an agreed cash takeover bid at 235p per share is also announced. So that's an instant 75% profit for shareholders, who have every right to be delighted at that outcome, given the poor performance of the company in recent years.
It's moving out of my range now (I normally don't go much above £200m market cap, and this has reached nearly £243m at 335p per share), so this will probably be the last time I report on Utilitywise, the cost consultant for energy costs.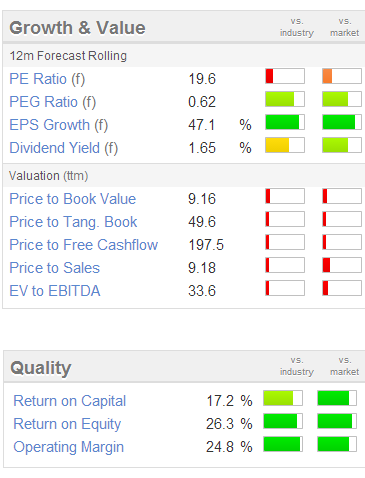 Very impressive interims are announced today, for the six months to 31 Jan 2014. Revenue is up 105% to £21m, and adjusted pre-tax profit is up 133% to £4.9m. Adjusted fully diluted EPS is 5.1p for the six months, so double that to annualise it (simplistically), and just over 10p per share. So a pretty racy PER of almost 33 times!
Although as you can see from the Stockopedia graphics on the right, the forecast PER drops to 19.6 allowing for future earnings growth (based on broker consensus forecasts). These graphics perfectly illustrate the high valuation, but strong earnings growth which has driven investors to give this share a high valuation.
Acquisitions have helped drive those numbers, but without acquisitions, like-for-like revenue still increased 65%, which is very impressive.
I'd be amazed if these profits are sustainable - it looks to me like a company that has found a sweet spot, but competitors will inevitably be drawn in by these bumper profit margins, one imagines. It might also be worth looking into their revenue recognition policy, as I note that there is a very unusual £11m…

Unlock the rest of this Article in 15 seconds
Already have an account?
Login here