Small Cap Value Report (29 Aug 2014) - CSG, ZOO
Good morning! I apologise for today's report being somewhat later than usual. This is due to me attending a delicious "salted karamel"-flavoured vodka (Stoli) evening in North London last night, and unfortunately one thing lead to another, and I nodded off this morning whilst reading the RNS. It's always a mistake to drink on a school night - unfortunately I don't have a medium setting - it's all or nothing I'm afraid.
Incidentally, I discovered a real hidden gem of a hotel yesterday on High Holborn, called the Rosewood - absolutely stunning place, very highly recommended. Although it was £40.20 for three gin & tonics, so very much a place to soak up the ambiance & admire the decor, for one round only.
Share price: 39.7p
No. shares: 68.7m
Market Cap: £27.3m
There's an upbeat-sounding trading statement today from this quantity surveyor. The key part of today's statement says;
 ...the Group continues to trade well and gain market share... I am pleased to report that the business is trading in line with expectations.
It looks very good value, and reasonable quality on Stockopedia's usual graphics;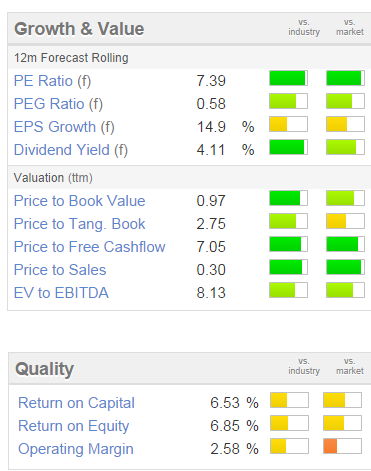 So on the face of it, this would definitely be something I would research further, based on the graphics above - which are an excellent way to quickly dig deeper, or jettison a stock idea - very useful when you have 500+ stocks to cover, as I do!
Unfortunately, the shares are uninvestable for me unless & until the major issue of investigations by the US Dept of Justice, and the UK's Serious Fraud Office are concluded. This issue arose when the Wall Street Journal published bribery allegations last year, suggesting that a former employee of CSG had behaved improperly. Of course it would hardly be the first time that a potential bribery situation arose in the Middle East!! However, you can't have this type of thing hanging around you, when you're a Listed company.
It could drag on for a long time, and could potentially be disastrous in terms of costs/fines, etc. Therefore I cannot go near these shares at the moment, but am watching from a safe distance - there are enough risks with normal small cap investments, without taking on unnecessary & unquantifiable risks.
---
Zoo Digital (LON:ZOO) - I've had a quick look at final…

Unlock the rest of this Article in 15 seconds
Already have an account?
Login here