Small Cap Value Report (29 Mar 2017) - GMD, ABDP, APH
Hi everyone - I'm planning to look at Game Digital (LON:GMD), Ab Dynamics (LON:ABDP) and Alliance Pharma (LON:APH) today.
Regards
Graham
---
Share price: 42.5p (+7%)
No. shares: 170.9m
Market cap: £73m
I was tempted to buy some of these today, as net cash is now £69 million, very near to the market cap even after a 7% increase in the share price.
However, I resisted the temptation, and will stay on the sidelines for the moment.
It's definitely an unusual situation, though: a large retailer which is still profitable and priced only a little over its net cash balance! (Edit: it also pays a dividend!)
And I did not expect the share price to get so low, so quickly - it is barely 20% the level it was at in December 2015.
It previously traded under the "GAME" ticker, and left shareholders with nothing when it went into administration in 2012.
It IPO'd again two years later with half the number of UK stores it had previously, and with no international operations outside Spain.
But sentiment has soured once again as investors are concerned that games will in the future be downloaded and/or streamed, making physical distributors irrelevant.
I think that's a bit overblown, since there are console sales and gifts for children, etc. where physical stores serve a purpose.
But there is no denying that Game will continue to face changes beyond its control.
Results: A decent set of profit numbers, given the declining top line: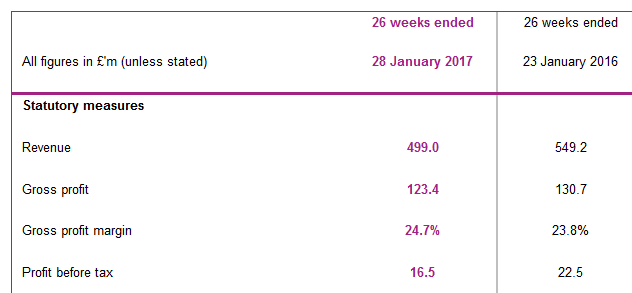 Note that Christmas sales are crucial and the spring/summer months then become very quiet. Last year, the PBT result for the full year was just £5 million.
Lease length: The average lease length of UK stores is 1.2 years, while the average lease length in Spain (where Game also has nearly 300 stores) is just 1 year.
That seems incredibly low, and perhaps means that the risk of investing here is not so great as it looks at first glance. If trading continued to deteriorate, perhaps the estate could be halved again, but without entering administration this time?
Outlook: A decent outlook statement. Management appear to be suggesting that the sales trend has turned the corner, at least in the short term:

The…

Unlock the rest of this Article in 15 seconds