Small Cap Value Report (29 Oct) - GTC, GBO, ADT, NFC
Good morning! Final results for the year to 31 Jul 2013 are issued this morning by Getech (LON:GTC), and impressive they are. Unfortunately I sold my shares in this a few weeks ago, as it was becoming increasingly difficult to value. That is no longer the case, with a cracking set of numbers released this morning.
Getech is a small company (£23.7m market cap at 80p per share) that provides magnetic & gravity data, globally, to oil exploration companies. So my understanding is that they have bought up & enhanced data collected historically. This is then licensed to mainly large oil companies.
Revenue is up 24% to £8.0m, and profit before tax up a remarkable 80% to £2.2m. This company has good operational gearing - i.e. it generates high gross profit margins of 68.5%, therefore this is a good demonstration of how profits are highly geared to increases in turnover where high margins exist. Profit up 80% on turnover up 24% speaks for itself!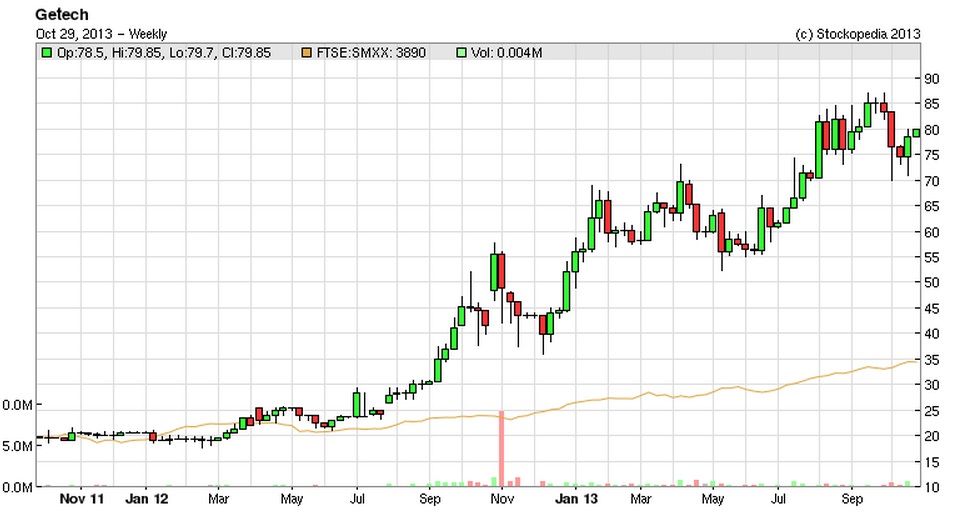 Finding a high growth company, with strong operational gearing, at a reasonable price, is the holy grail of investing. If the company has a large addressable market, and strong competitive advantages, then you've probably got a major multi-bagger on your hands. That was how I got started in investing, when I originally spotted IndigoVision in 2004, with a big market opportunity, world-leading products, selling at high margins. I loaded up about 80% of my portfolio into it, and it 30-bagged, making me a ridiculous amount of money.
If I'd sold in 2007, then it would have been my best investment ever, but unfortunately I didn't. The crucial lesson learned being not to fall in love with a stock - it's essential to top-slice on the way up, and sell completely once something is fully valued, no matter how fond you have become of it. Sitting in an over-priced stock that has done very well for you historically, gives a very false sense of security. It's frightening how quickly those big profits can disappear once something goes wrong.
I've rambled off the point, so back to Getech. Broker consensus is shown as 5.23p for EPS, and they've come in ahead of that at 5.57p, or 5.3p on a diluted basis (indicating the presence of some share options, although not an excessive amount).…

Unlock the rest of this Article in 15 seconds