Small Cap Value Report (3 Jan 2014) - DEB, NXT, JSG
Good morning! Very little news again today, as expected, so I treated myself to a lie-in, as the noise from the storms kept me awake all night here in windswept Hove. Luckily the roof stayed on, although this type of weather is arguably a good time to get rid of stuff you don't want, by lobbing it over the fence into next door's garden! (only joking, I saw that on Twitter, and it amused me).
Talking of weather, Debenhams (LON:DEB) issued a profit warning on 31 Dec 2013, again blaming the weather - something they did earlier last year too. The trouble is, that excuse has been blown out of the water by their competitors - House of Fraser (whose own staff used to call it "House of Failure" in the 1990s!) seems to have really got their act together and reported a very strong Christmas. As also has John Lewis Partnership (would we expect anything less from them?). So it's very clear now that Debenhams are not executing well, and I would imagine larger investors will be clamouring for either an overhaul of strategy, or a change of CEO. That said, as we discussed in yesterday's comments section, in my view DEB is fixable, and the price now looks attractive to me, hence why I'm long there, and heavily averaged down yesterday.
As I worked for 8 years until 2002 as an FD in ladieswear retailing, this sector particularly interests me, so this is the one time of year when I comment on large cap retailers.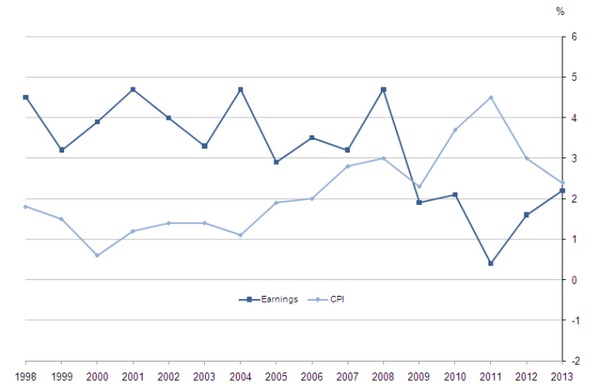 The other thing to consider is that the squeeze on household incomes is now arguably coming to an end.
Twitter is a mine of useful information on economics, and this article from political commentator Guido Fawkes contains an interesting chart showing that annual pay rises on average have now risen to just over 2%, whilst CPI inflation has fallen to just over 2%. Therefore, based on this data, the squeeze on household incomes should now be coming to an end.
As investors it's our job to anticipate trends, hence why I'm prepared to give Debenhams the benefit of the doubt for the time being. It's also been in & out of Private Equity ownership several times before, who know…

Unlock the rest of this Article in 15 seconds