Small Cap Value Report (3 Jul) - SID, BEG, SDM, OFF, ITM
Good morning. Apologies for the technical gremlins this morning, hence am running a bit late. So here's a quick rattle through the announcements & market events which have caught my eye in the small cap space today.
There has not as yet been an update from Silverdell (LON:SID) on what has happened there, after yesterday morning's suspension of the shares. It's too early to pass judgment on the situation or the Directors, because we do not yet know the full facts. I'm amazed at some of the comments on bulletin boards & elsewhere - how can people be so emphatic when they don't have the full facts?
Although what I do know, from a reliable source close to the company, is that a further announcement will be issued shortly, probably some time today. It appears that there has been some sort of disastrous sequence of events concerning a Winding-Up Petition for a fairly trivial amount of money, which appears to have triggered much bigger problems with the Bank and/or the Court in some way, and has resulted in a subsidiary of Silverdell, Kitson's being put into Administration.
We don't know what will happen next, but it sounds to me as if there's some chance that the situation could be salvageable. We'll have to wait & see what their next announcement says.
Next I've been looking at results from Begbies Traynor (LON:BEG) for the year ended 30 April 2013. They seem to have come in slightly below broker consensus, but not enough to make much difference. Revenue fell from £57.7m last year to £51.1m, so that's an 11.4% drop, and the third consecutive year of declining turnover and profits.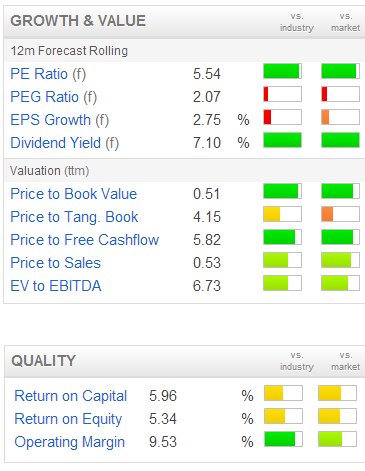 Adjusted EPS came in at 5.3p (vs 6.0p last year), slightly below forecast of 5.45p.
As the business has shrunk, due to continued subdued conditions in the insolvency sector, each year there have been significant exceptional costs, mainly associated with redundancies & office closures. When these costs happen every year, you have to question at what point do they stop being exceptional?
On the positive side, the 1.6p final dividend has been maintained, which gives 2.2p for the full year (same as last year), yielding a thumping 7.2% at the current 30.75p mid price. In my…

Unlock the rest of this Article in 15 seconds
Already have an account?
Login here