Small Cap Value Report (3 July 2017) - PLA, QTX, FRP, TRAK
Morning folks,
Before getting into some updates, I thought I'd point out there was a really high-quality discussion in the thread for Friday's report, with a lot of comments on Game Digital (LON:GMD).
I'd particularly point out comments by Paul (who has a long position) and bestace.
I'm planning to update c. four stories by lunchtime.
Cheers
Graham
---
Share price: 115.5p (-3.3%)
No of shares: 38.9 million
Market Cap: £45 million
Results for the year ended in March from this niche plastics manufacturer.
Plastics raised net £3.5 million at 117p recently, and suspended its dividends.
Paul and I have mostly been sceptical about this share, so perhaps I shouldn't dwell on it. Briefly: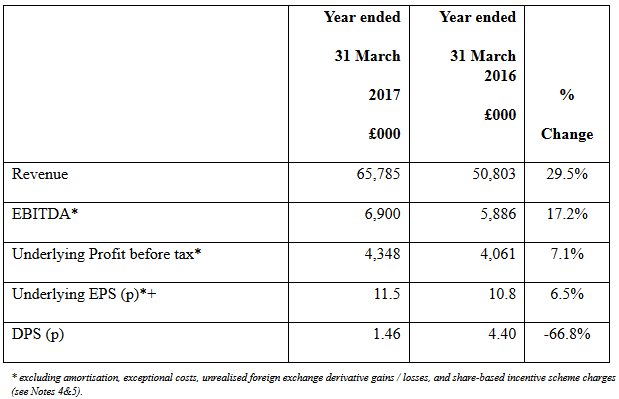 As you can see, underlying EPS is growing at a much slower rate than EBITDA and revenue, and that underlying measure involves quite a few adjustments.
The "like-for-like organic growth" reported by the company is 6.7%, about the same as underlying EPS growth.
It's a big exporter (45% of sales) and is set to benefit from the expiry of currency hedges.
Subsidiaries are classified by two divisions: Industrial and Films (plastic films!).
Of these, Industrial has produced the far more interesting growth rates this year: 27% organic revenue growth across the entire division, or 16.5% at constant currencies. Meanwhile, Films was up less than 2%.

Capital allocation for the year is summarised as follows:
In total, therefore we have spent approximately £6.7 million in these investment areas [GN note: capex, acquisitions and integration] compared to the £4 million estimated 12 months ago. We also spent £0.4 million to restructure and relocate of Chinese operations. Finally we paid £1.1 million out in dividends.  All of this amounts to a total of £8.2 million and was funded by free cash flow of £3.7 million and an increase in net debt of £4.5 million.
I don't like being a perma-bear but I just can't get interested in a company which has the specific goal of doubling EBITDA (this goal being linked to management share options).
Targeting EBITDA usually means balance sheet expansion, rather than high-quality organic growth. Plastics has both raised new equity and increased its borrowings, which is perfectly consistent…

Unlock the rest of this article with a 14 day trial
Already have an account?
Login here