Small Cap Value Report (3 Mar 2017) - HVN, TRAK, G4M
Good morning,
Paul is going to be busy for most of today, so I'll man the fort here.
At the moment I provisionally intend to cover:
Regards
Graham
---
Share price: 61.4p (-1%)
No. shares: 73.5m
Market cap: £45m
This lowly-rated recruiter seems to be doing ok, mostly because of currency movements: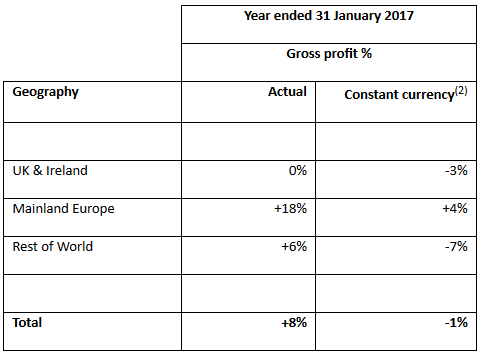 Those constant-currency movements are less than inspiring, however, and are more important to me than the actual numbers. They tell a more accurate story about the performance of each segment
that was under the control of the company
.
However, today's statement from the company doesn't take any responsibility for the weakness seen, blaming the UK result on Brexit uncertainty and blaming the Rest of World result on "challenging market conditions" in Hong Kong.
Perhaps it's unrealistic to expect better explanations than this, but I much prefer when companies tell us that they made some mistakes or that they were beaten by superior competition, and that's why the results aren't very good.
Anyway, even with this lacklustre trading update, Harvey Nash shares are screaming value at the current level. I'm not surprised to see that the StockRank Value Rank is 99. The trailing PE ratio is 6.8x and that ignores the value of the healthy cash balance.

So if it can sail through the next year or two in a reasonable way, it's priced for a fantastic shareholder return, even if we assume the business is less than high-grade.

---
Share price: 75p (-4.5%)
No. shares: 32.5m
Market cap: £45m
The stream of bad news here has finally taken its toll on shareholders with a discounted placing. £2.1 million is raised through the issuance of 3.2 million at the discounted price of 65p per share.
The bookbuild was made available only to institutional investors, investing alongside management and directors who have put in £800k.
The statement acknowledges that the issuance price is at a 17% discount to yesterday's closing price. Needless to say, this is another instance of the disparity in opportunity faced by difference classes of investors.
For what…

Unlock the rest of this Article in 15 seconds
Already have an account?
Login here