Small Cap Value Report (3 Oct) - NXR, INL, AN., ABM
Good morning. Yes I'm late, so it must be Thursday! To compound that, tinternet has gone down here in Hove, so my iPhone is currently doing a remarkable job at supporting 17 tabs on Google Chrome - which is great, but it's a shame they forgot to make it competent at actually making phone calls too, that seems to have been overlooked by Apple...
Right, let's get stuck into today's announcements. There's a trading update from Norcros (LON:NXR). It starts out sounding like a profit warning, but gradually improves. By the end I have heaved a sigh of relief, with the last sentence crucially saying, "The Board remains confident of the full year outcome". In a bear market the shares would have been marked down at least 10% just in case, but today the price is unchanged from where it has been in recent days: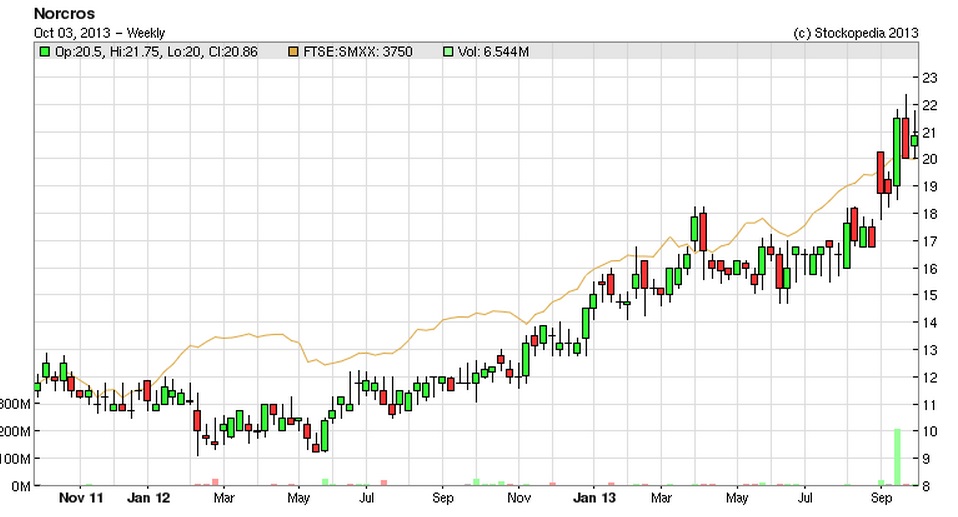 Normally I would consider selling if a trading statement says that trading is expected to be more heavily H2 biased than usual, which this does. However, the valuation is sufficiently low that in my opinion it already factors in lacklustre current year trading. Plus, with the UK economy now recovering, one would expect their trading to begin showing signs of recovery in H2 (NB. it's a March year-end).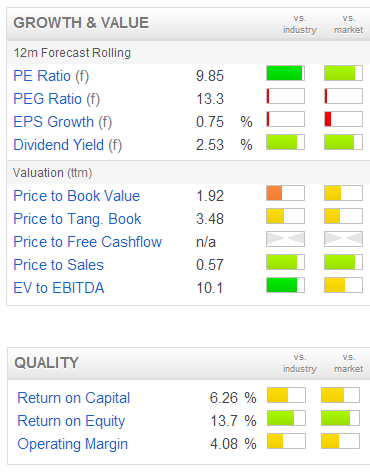 As you can see from the Stockopedia growth & value table to the right, the forward PER is attractive here (you won't find many cyclical companies on a PER under 10 these days), and the dividend yield is useful at about 2.5%.
Today's statement also indicates that net debt is anticipated to be around £29.5m at the half year end of 30 Sep, which is down slightly from their last reported figure of £31m. It's not a problem level of debt, but personally I wouldn't want to see it go any higher.
Also bear in mind there is a big pension fund here, with a deficit, although the deficit is fairly modest as a percentage of the total fund assets, and in common with other schemes, the deficit should have shrunk recently as Bond yields have risen. Why? Because the impact of a higher discount rate on calculating the present value of scheme liabilities tends to be a positive factor which is greater…

Unlock the rest of this Article in 15 seconds