Small Cap Value Report (3 Sep) - WYG, ALU, ATUK, HYD, JSG
Good morning! WYG (LON:WYG) is a new company to me, it's a £65m market cap (at 108.5p per share) group, which as is so often the case, I am finding it incredibly difficult to work out what they actually do. The "what we do" section of their website doesn't throw a lot of light, saying:
Here at WYG we provide a diverse range of services to clients across numerous sectors worldwide, offering creative and effective solutions to their projects.
Well that's as clear as mud then. The "about us" section of their website throws no further light, so I have resorted to guessing what they do from the pictures. So it looks like some sort of design & building consultancy? Today's RNS describes themselves vaguely as:
 the global management and technical consultancy to the built and natural environment
So first rant of the day is to question why it is that so many Listed companies seem unable to give a clear & simple explanation as to what they actually do?! The fashion for dressing up simple activities into a confusing array of management-speak gobbledegook just puts me off even wanting to look at their figures, as I cannot fathom, quickly & easily, what their activites are.
Anyway, their trading update for the six months to 30 Sep 2013 sounds pretty good - in particular this section which augurs well for the UK economy as a whole:
In the UK, we have secured additional business across our core sectors of Defence and Urban Development including several projects related to the MoD's Base Optimisation programme and the Group is winning increased levels of planning and enabling work associated with the widely reported increase in activity in the construction and house building sector.
The conclusion is that current year profit expectations (which were raised in June) are now being raised again.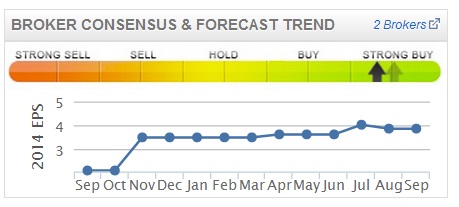 So to quantify that, current broker consensus is for 3.87p this year (ending 31 Mar 2014) and 5.67p next year. Therefore, one would imagine this year might be looking perhaps at nearer 5p per share, and say 6-7p next year if the improvements continue?
So at 108.5p the shares don't look particularly cheap, even once you factor in…

Unlock the rest of this Article in 15 seconds